Year built:     2013
Built area:     440 m2  (4,750 sq. ft.)
Lot size:    25 hectares (62 acres)
Photography:     Jesus Granada
An old stone ruin, 25 hectares of oak forest and distant views to the Mediterranean. Perfect… except that local building regulations demanded that the building had to be rebuilt in original form. The owners were seeking a more spectacular and modern house, befitting of the panorama. Dream or nightmare?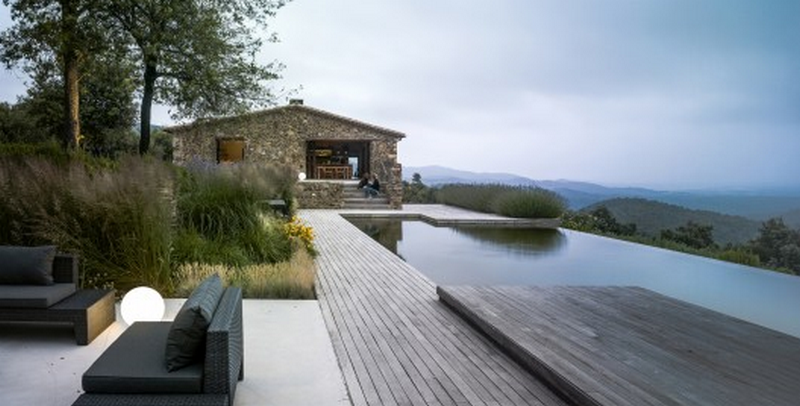 The solution determined by Zest Architecture was to place a new home inside the ruins. The result is a home anchored in history but that is as modern as tomorrow. Locally harvested cork has been used for internal sound and temperature insulation while clay from the site is used for internal finishes. The home is heated and cooled geothermally. The natural swimming pond is chemical-free, using gravel and plants to filter the water.
From the architect:
The old and the new (that which will age) strengthen each other in this project through their opposition and juxtaposition. The old has been left visible with all its scars, while new materials such as Corten steel, wood and clay, were chosen for the beauty of their natural imperfections and the way in which the traces left by time make them even more beautiful. Rain, wind, human touch…. will make sure that this house will be even more beautiful over time.
You can discover the magic of natural swimming ponds by visiting our blog.
And if you'd like to see more great examples of recycled homes, just keep scrolling down…