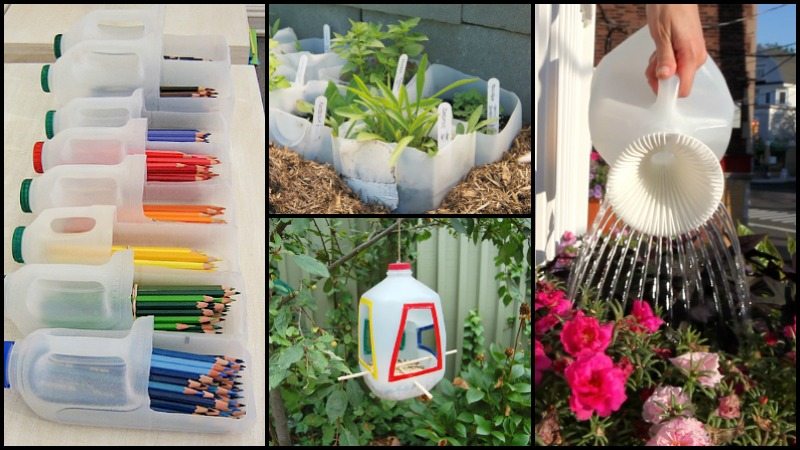 Several recent reports indicate the bleak global situation associated with the world's use of plastic. Globally, people buy a million plastic bottles per minute. Experts estimate that 91 percent of the plastic we use is not recycled. To make matters worse, studies indicate that commerce and industry will sell over half a trillion plastic bottles in 2020.
Does your milk come in plastic jugs?  Hopefully, you've been able to recycle them rather than them simply going to landfill. But why not upcycle them instead? Instead of contributing to the growing global garbage problem, you can easily turn trash into treasure!
If you've always had plastic milk jugs in your house, you probably already know one or two repurposing ideas for them. But there are so many clever uses for empty plastic milk jugs! They're great as planters, as storage containers, like igloos, bailers and you can even make jewelry with them!
When it comes to upcycling, the only limit is your imagination. You can even involve the whole family! Brainstorm and come up with great upcycling ideas.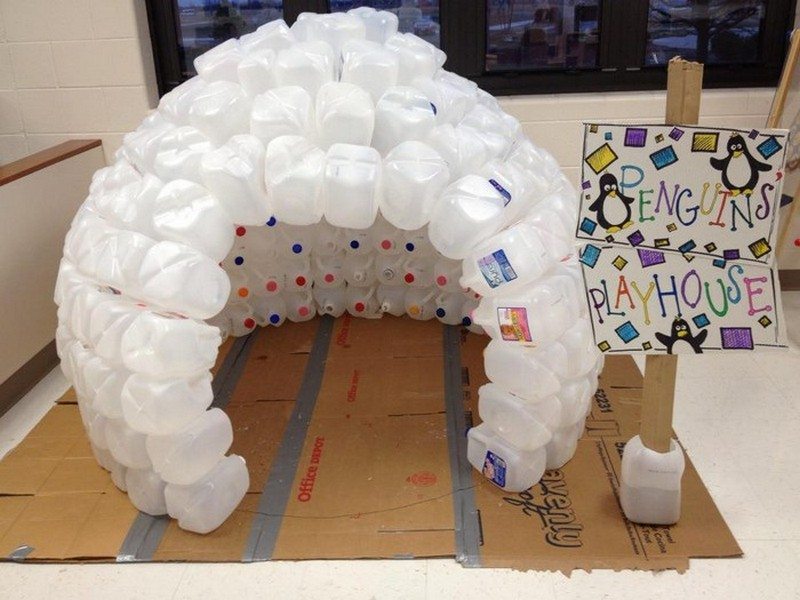 Check out some of the clever upcycling ideas we've shared below and then let your imagination run wild! And of course, any similar container, such as those containing fruit juice, can be used in the same way!
Click on any image to start the lightbox display. Use your Esc key to close the lightbox. You can also view the images as a slideshow if you prefer 

Seed Starter
Plastic milk jugs come in handy when you want to start perennials in your garden. Garden Gate ENotes has a step-by-step tutorial for this idea.
Jewelry
We never thought milk jugs could become cute jewelry items, but Twice Creations from Etsy certainly did!
Here's a great idea for preschool teachers, or even parents who have access to hundreds of plastic milk jugs! Learn more about it here.
Milk Jug Skeleton
Need Halloween decor? Then challenge yourself to make a skeleton out of milk jugs!
Watering Can
This is one of the most common ideas people know for repurposing a plastic milk jug. Need we say more? 🙂
Stormtrooper Helmet
If the kids need a cool costume for school you can definitely make a Stormtrooper helmet with plastic milk jugs!
Chandelier
What do you think about a chandelier made out of plastic milk jugs? This idea from Shoestring Pavilion might not be for all, but it's definitely unusual!
Jack-o-Lanterns
Here's another, easier, Halloween decor idea if you're not confident about making a milk jug skeleton. 🙂
Bird Feeder
Want to invite birds to your garden? All you need is a milk jug and a couple of small branches from your tree!
Storage Bins/Organizer
Plastic milk jugs can be used to store and organize just about anything, whether it be items in your crafts room, home office, bedroom, or workshop!
We hope you liked it and found these suggestions helpful. If you have an idea you would like to add, do share it with us through the comments section! 🙂
If you liked these, you will also like viewing these other recycled and repuprosed ideas…