Built Area: 87.0 m2
Year Built: 2016
Photographs: Studio Chirika
Casa Flotante, or Floating House, is a three-story structure that appears suspended in air but is actually anchored to the floor. It looks as if it's floating like a lantern, radiating light through the forest.
The house stands on nine stilts – nine columns organized into a grid. It supports the timber platform that forms the floor of the house.  Occupying a small plot of land, the tall structure mirrors the trees in the area. This design allows the house to become one with the surrounding landscape.
Floor-to-ceiling windows, skylights, and large openings allow plenty of light inside the home. When illuminated from the inside, the house glows, especially during the night.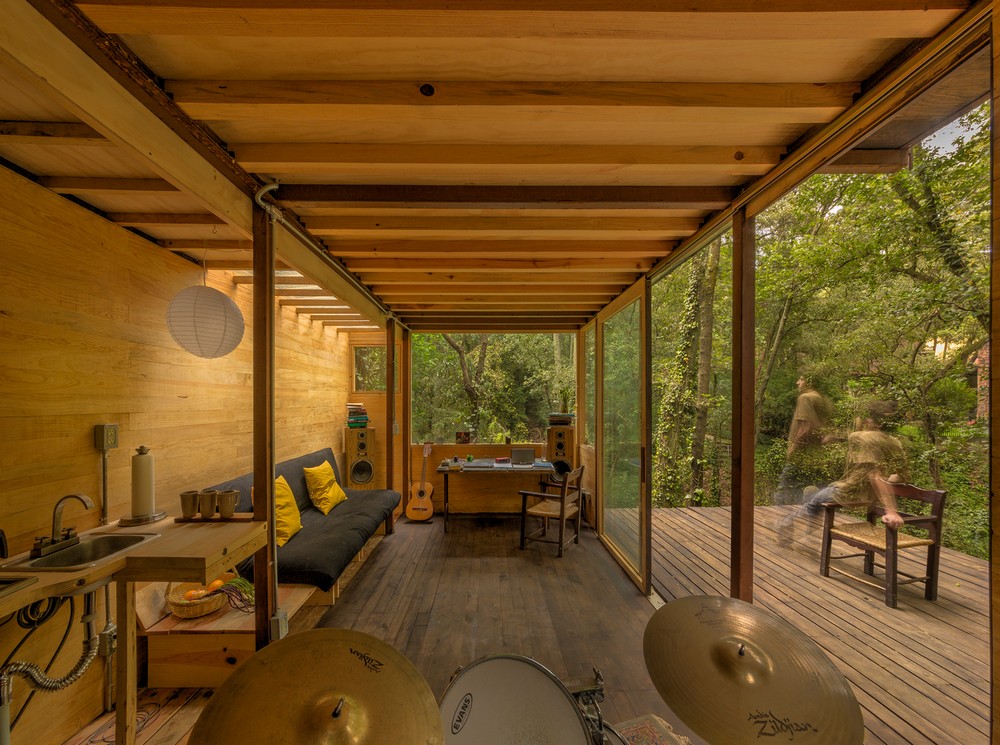 The house is divided into several living spaces. The ground floor contains the kitchenette, a workspace, and an area meant especially for a drum set. A part of this floor is utilized as an outdoor living space.
Timber is the principal material used in the house. It's found on the exterior covering, stair treads, furnishings, ceilings, walls, and floors.
Notes from the Architect:
A house inside a vertical spiral hides in the depths of its surroundings. The integration between outside and inside is the main ingredient– much before any construction material or form.

The luminous and protective structure decides to be inspired by the trees around it. Like roots, it sets its nine supports to stand tall in a vertical slope in the heights of Mexico City.

"Casa Flotante" is much more than all its spaces. It's a bridge between nature and shelter, which invites all trees and plants inside.

The behavior is not to dominate but to reflect. To give into the landscape… like a mirror. The proposal of this construction style is an exchange of size and quantity for lightness and integration. As a result: Beauty.

The key: Simplicity, transparency and touch. The texture absorbs the local materials to turn them into an experience.

Made of light and reflections, the atmosphere multiplies its views and sensations. Size and proportion lets one ascend in a spiral, through the house between the studio and the bedroom: Between pleasure and creation; through thoughts and dreams.
Click on any image to start lightbox display. Use your Esc key to close the lightbox. You can also view the images as a slideshow if you prefer.
Exterior Views:
Interior Views:
Drawing Views:
Are you a fan of structures such as this? We have more for you. Check out Sol Duc Cabin in Beaver, USA.