The Pizzeria Pronto is everything you want a pizza oven to be – easy to use, lightweight, portable and safe to put on any surface. But more importantly, it can bake your pizza in as little as five minutes!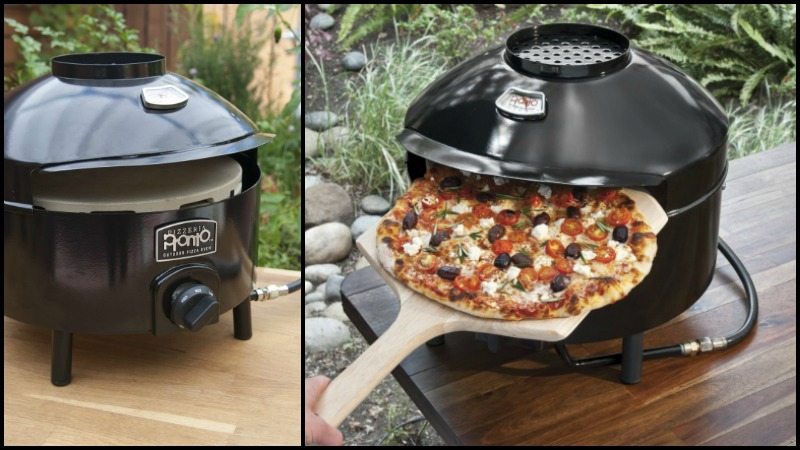 This pizza oven is truly a delight to use – easy to assemble and its ignition works well even on the first try. And while you can only bake a 12-inch pizza with its 14-inch pizza stone, it cooks in 5 minutes so you can bake several pizzas one after another without any trouble! It is not only durable, it's also very well designed. It bakes the crust evenly, cooking the top at the same rate as the crust; thanks to its heat-diffusing hollow core and reflective heat shield. Now you can definitely have your pizza in as fast as five minutes, but it can be longer depending on the thickness of your dough and the toppings that you put. The longest cooking time so far recorded is seven minutes, which isn't bad at all! 🙂 Once you've got the hang of using this handy pizza oven, you'll definitely get that perfect pizza every time! With all these great qualities, the Pizzeria Pronto is indeed perfect for when you're having a backyard party or even when you're camping or tailgating. Safe to say it's the dream pizza oven of every pizza lover! Craving for your favourite pizza? Bake it anytime, anywhere by
getting yourself a Pizzeria Pronto
! Click on any image to start the lightbox display.  Use your Esc key to close the lightbox.  You can also view the images as a slideshow if you prefer  ?
If you liked this, you will also like reading about the vegetable spiralizer…