When our daughter was little we rented an old farmhouse that was built in the 1890's. It was cold and drafty in the winter, as it had little to no insulation. On very cold nights we could see our breath in our bedroom upstairs. The only bathroom was downstairs next to the dining room. One night we could hear a snake sliding across the ceiling as we lay in bed. The old house was poorly built with badly sloping floors and crooked walls.
But we ignored all of it's faults as it sat in the middle of 800 acres of cow pasture with wonderful views of the surrounding mountains. The driveway was lined with flowering cherry trees and there was a mature orchard with all kinds of fruit out back. It was our favorite place we ever lived and it only cost $200 a month for rent.
At the time, we were happy to have the low rent but didn't truly appreciate how much freedom that gave us. When one of the owners died, we knew it was time to move on. The land would be divided and the house burned for training. So, we built ourselves a brand new home that came with a real mortgage. Now we appreciated just how valuable that rent was.
As the economy headed south we knew we needed to reduce our bills so we sold the home and bought a smaller, older home and fixed it up. It was in a convenient location and the mortgage was reasonable. Several years later, as our daughter was preparing to head to college, we started looking for land to build a small house on. Our goal was to reduce our bills even more and move back to the woods.
We were very lucky when we found 10 acres with a great view of Chimney Rock State Park and the surrounding mountains. It has two streams and even a small waterfall. This was a perfect place for us at a great price since land was still not selling due to the recession.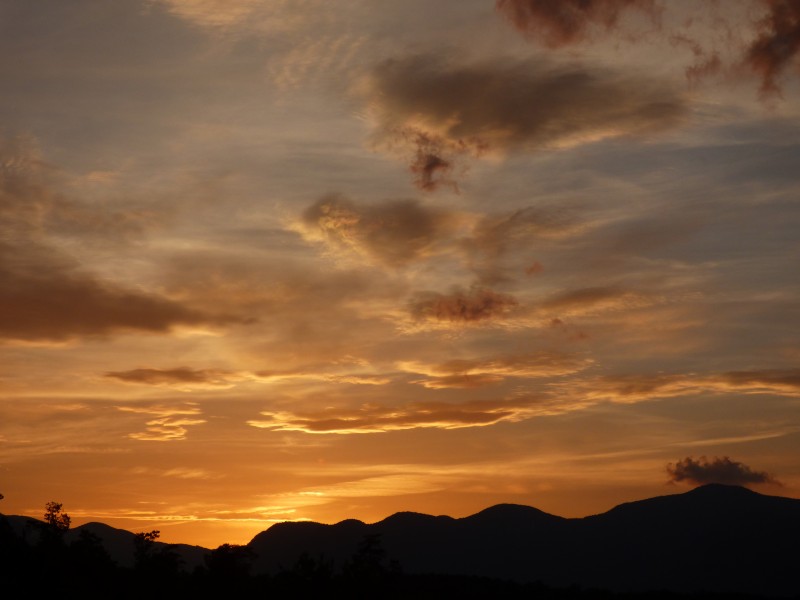 In the past few years we have become interested in downsizing and living in a sustainable way. The short movie "The Story of Stuff" and the tiny homes were very interesting to us. We knew we couldn't live in a tiny home but they did help inspire us.
We spent a lot of time thinking about exactly what was important to us in a home. We drew and re-drew the plans for our home many times. After drawing it on paper, I would go out in the street in front of our house and draw it out with sidewalk chalk so we could see what the rooms sizes would be like. After many revisions we settled on our plan of 704 square feet and started to build it.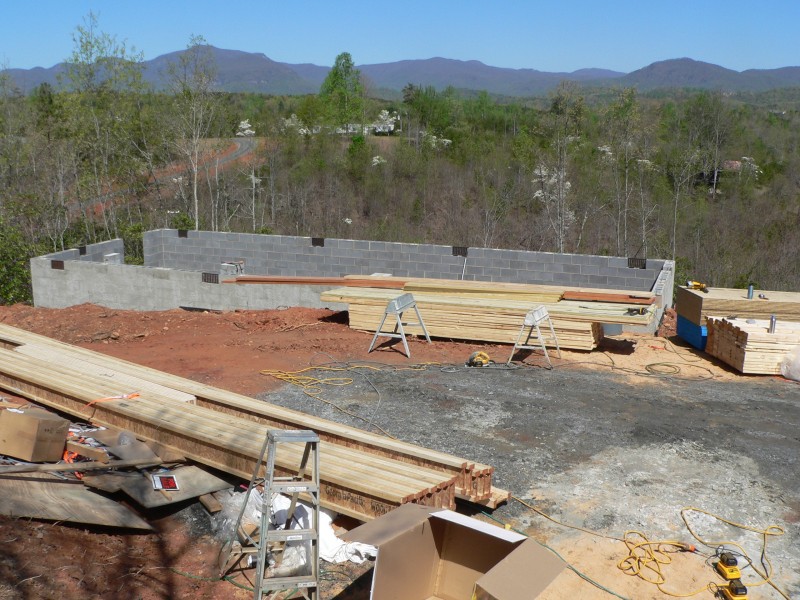 We wanted a home that let us enjoy the nature that surrounds our land. It was important to us to bring in a lot of light which makes the house feel bigger. So, we built it with a vaulted roof line and included upper windows and a loft. The vaulted side faces North, so we do don't get much direct sun in the house during the summer. This keeps it from getting too hot but it is light and bright inside without the glaring sun beating in.
Orienting the house with the sun properly makes the deck and the screen porch very useable, even in the summer heat. We wanted our home to be comfortable year round while keeping the utility bills down.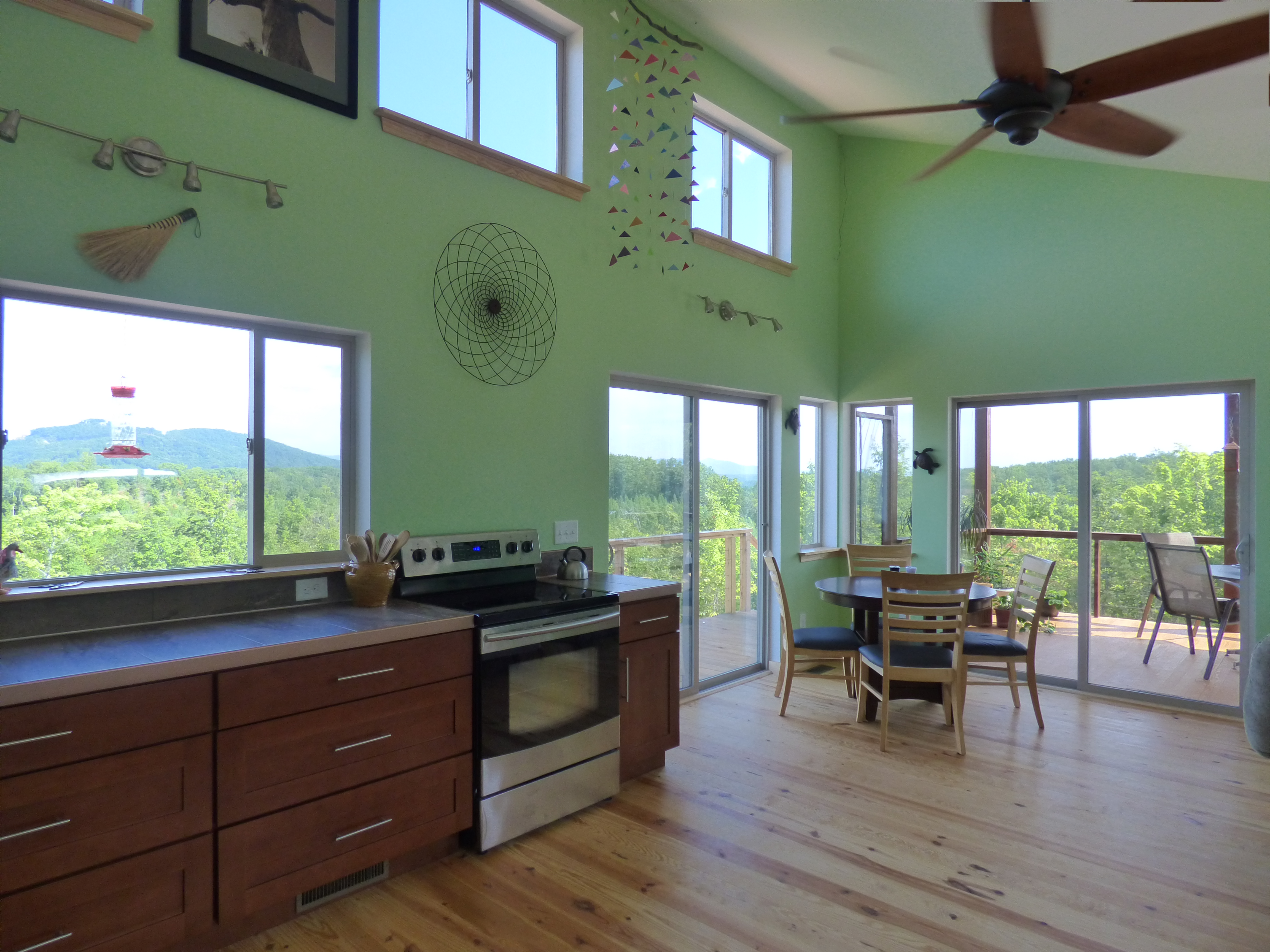 When moving into a small home, all of the space needs to be used efficiently. We built a large closet and made use of any place we could to add storage.
Under the stairs that go to the loft, we built in book shelves and kitchen storage. We also built a book shelf in the bedroom, above the doors and window, that wraps around 3 walls. The closet/laundry area serves as the hallway from the living area to the bedroom and bath. We have two dogs and their beds fit nicely in the hall area.
Our three cats sleep wherever they want and enjoy surveying their domain from the loft.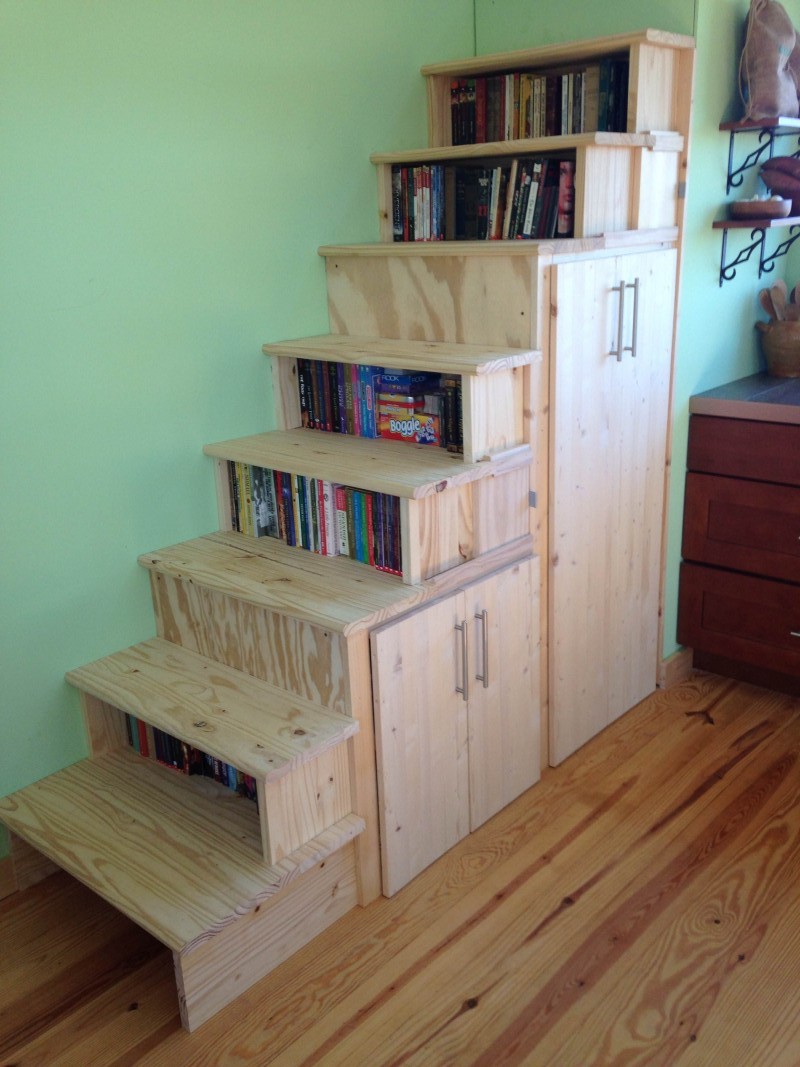 Our little home has a nice sized full bath and a small 1/3 bath we call the "Loo with a View" looking towards the mountains.
Our bedroom is on the main level and our daughter's sleeping area is in the loft, where the headroom is tight but the view is awesome. There is also an area up there for our daughter's sewing table and quite a bit of storage space.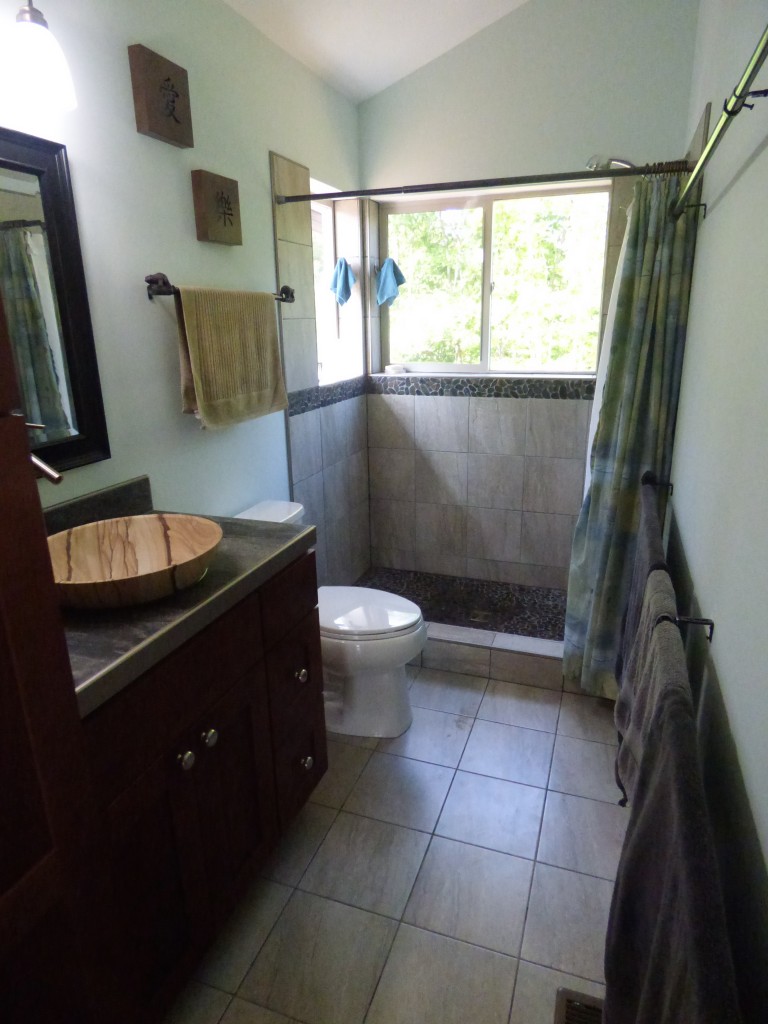 We moved into the house in July, three months after breaking ground. We love living in our small home and hope that others can see that it is possible to downsize without sacrificing what really matters, if you build a home that fits like a glove.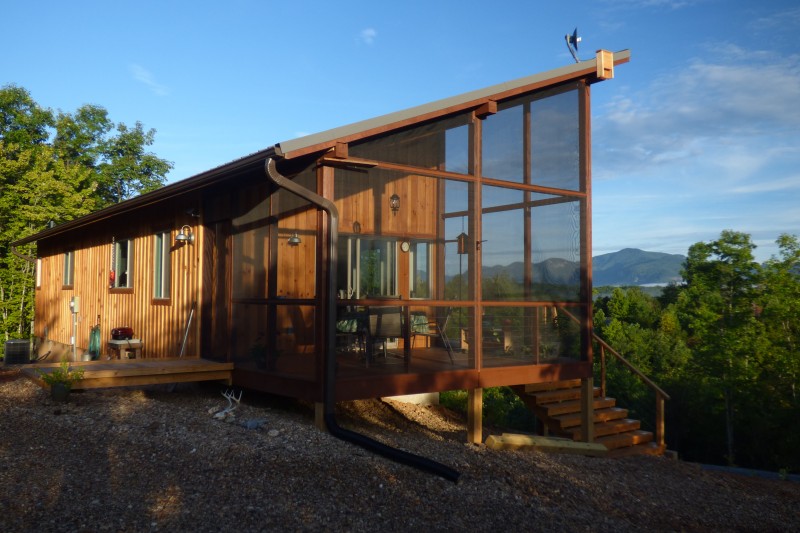 Please visit our website at simplyhomenc.com to see more pictures of our home and we hope our journey helps you realize you can love living in a smaller home.
Wally is a general contractor who likes to build small, sustainable homes.
He lives with his wife, Shawna and daughter, Alexa, two dogs and three cats in their  small home in the foothills of Western North Carolina.
They all like to garden, cook, go hiking and kayaking. (Well maybe not the cats 🙂 )