What could this odd-shaped and many-windowed little house in the woods have possibly housed? I stood in the woods on the top of the hill with my real estate agent, gazing in befuddlement—and increasingly also in delighted awe—at the little structure that reminded me a little of a Dr. Seuss house, a little of a Tim Burton mad creation.
It certainly wasn't the main house. Standing in those snowy woods in December 2011, I was on this 10-acre farm, with deeds dating back to 1832, in southwest Michigan, to see the farmhouse and the land that were up for sale. This little cottage was, well, a bonus. My real estate agent was as intrigued as I. We'd already toured the farmhouse, and we'd already walked the grounds, the tool shed, the barn. Now, this.
Spoiler alert: I had fallen completely in love with the property the moment I turned into the nearly quarter-mile long driveway. In my head and in my heart I had already made my decision to buy before setting foot in any of the buildings, because I had recognized this place as Home. I would sign on the dotted line in March 2012.
That day, that funky cottage on the hill only added to my sense that this place was meant for me. After all, the previous owner had written the listing and described this cottage as a "writer's den." And a writer is exactly who I am.
I stepped inside the cottage. As little as I understand about construction, I knew right away, as I had with the other outbuildings (all built in similar style), that this little house was solidly built. Built with obvious love. It was all in the details.
The cottage walls were filled with windows, and not one of the windows was aligned with another. Every window was different. Not only was the mysterious builder a person for detail, knowledgeable about construction, but apparently also a person with a sense of humor.
Two floors: the main floor was about 120 square feet, then, up a wooden ladder to the second floor, an additional 80 square feet. I climbed upstairs and found a small built-in bookshelf along one wall, above it a large skylight, and a small wooden desk with drawer handles shaped like dragonflies, and a chair.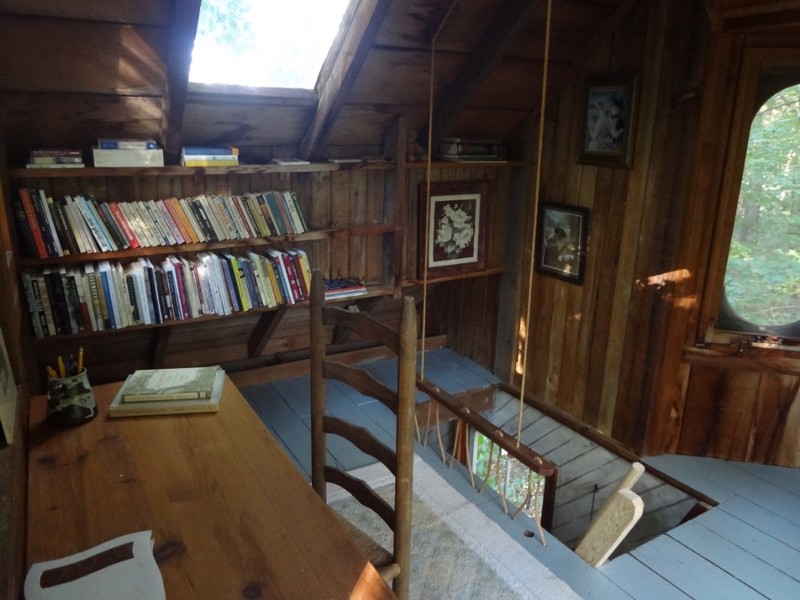 And more windows. A wall of windows, in fact, floor to ceiling, and sitting at the desk, I felt like I was sitting in the tree tops. I could only imagine what it would be like here when the snow would melt, the trees fill with green leaves. What a haven this must be …
"You could use it as a children's playhouse … " my real estate agent suggested, peering up at the top of the ladder.  "Or better yet," I said, "my playhouse." I grinned. What a fun place. I was determined to buy the property, and it would be great fun to figure out at some point what to do with the cottage. At this point, its only inhabitants were mice and a bug or two.
When I moved into what I would come to call Z Acres, spring was in full blossom. I walked the grounds daily, in all kinds of weather, and my delight was daily renewed. This was that place where I planned to live until I was done. From the day I moved in, I felt rooted with the sense of forever Home.
So what to do with that cottage? Busy with the work of moving in, busy, too, with establishing my own business, a writing and editing service called Z Word, LLC, I didn't always make it up the hill to visit the cottage. It was a bit of a trek, after all, some distance from the house, and mostly all uphill.
Now and then, however, when I took the long walk to the mailbox, I took a left up the hill instead of a right down the hill to the farmhouse. My dog, Guinnez, an old and devoted Chow, would follow me up, and the two of us would sit inside the cottage and ponder its space. I did realize that I couldn't just let it sit. Buildings need care or they deteriorate. At very least, I thought, I should weatherize it. Perhaps then some idea would come to me about its use.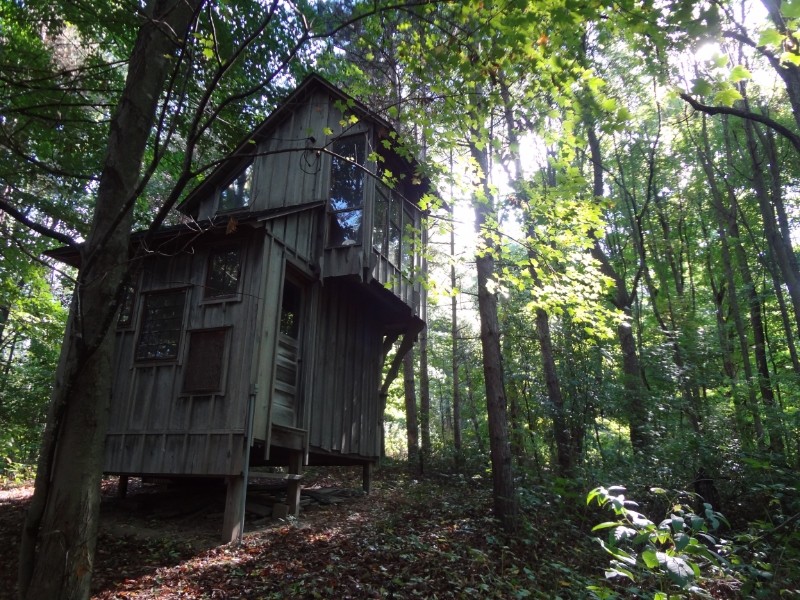 It took a few months, but by September 2012, I decided to set aside a bit of cash to have the cottage weatherized—so at least it would be protected from aging any more while I thought about what to do with it. My children are adults, in no need of a playhouse. No grandchildren (yet) scampered about my knees. Guinnez, on the other hand, seemed to like the cottage quite well, and happily curled up at my feet for a nap as I sat in one of the old chairs gazing about at the cottage, waiting for it to speak to me.
Weatherize, yes. But what about that second door? On the main floor of the cottage, there was a front door, and there was a back door. The back door, however, went nowhere. Open it, and you could step out into space, a good six feet up off the ground. Where was it meant to go? Had the builder been interrupted in working on the cottage? Standing outside, it seemed clear that the back door was meant to have either stairs going down—or a small deck.
I liked the idea of a small deck. I called a good friend of mine who made a living as a handyman-for-hire. I asked David to come for a visit to my new home and take a look at the cottage to discuss ideas.
David came out to take a look, quoted me a good price for weatherizing the cottage to protect it, and we batted around the idea of adding a small deck. The ball was now rolling. While he climbed about outside on his tall ladder, spraying a special solution all over the cottage to protect it from the elements, I stacked paint cans inside, and started cleaning.
David was impressed with the cottage. He deemed it well built, and he, too, admired the mysterious builder of the place for his careful work and his whimsy. The cottage wouldn't require much to be put back into use. I could always add this or that with time, but for now, I planned to use a kind of white wash for the interior walls, and a soft gray for the floors. The trim around the misaligned windows I would leave as is, making them "pop" even more from the walls when white washed.
I wanted to keep the rustic feel, so my intent was to change the cottage as little as possible. I started to consider how to furnish it once the paint had dried.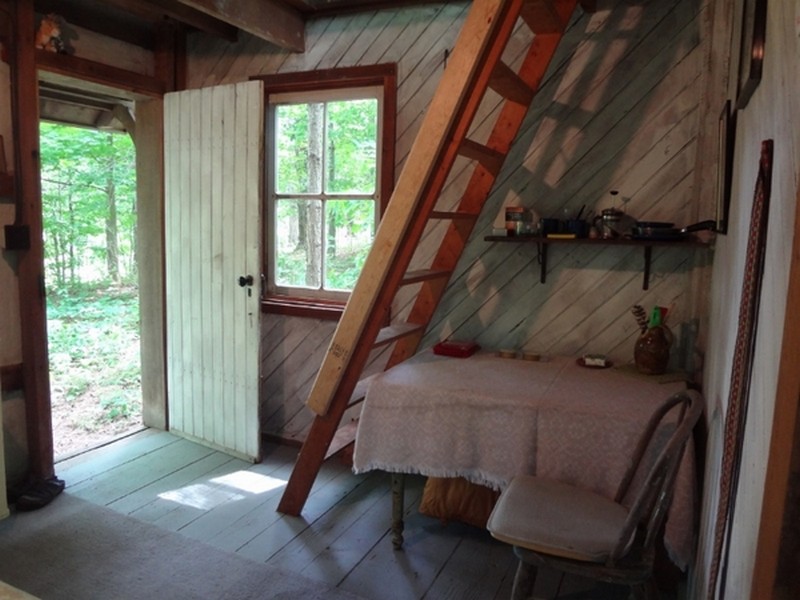 After I finished cleaning and painting, I went on a hunt for furnishings. Not to stores. To the barn, to the attic, to other parts of the farmhouse. What could I do with what I already have? The previous owner, with her primary residence in Chicago, had lived here only during summers, so when I bought the property, she left nearly all her furnishings behind. The farmhouse had two bedrooms—at least, that's the way she had seen it. I saw it as one bedroom, mine, and a dining room where her guest bedroom had been. I already had a full-size bed, hardly touched, needing a place to go.
Also in the barn, I found a small dusty table with chairs, a small cabinet with chipped paint that would do nicely as an end table with storage. I called the good men in my life to come help, and with all hands ready, we hauled the mattress up the hill. A new bed frame had the bed in place in no time. I picked up an inexpensive carpet remnant to put on the main floor beneath the bed, adding a bit of comfort and warmth to that room. The table fit perfectly in the corner below the ladder.
I had thought about repainting the furnishings … but then I reconsidered. All I had to do was clean. The marks of time only added to the comfort of the cottage. It was small and inviting, and in the evenings, with the lights on, the little cottage had a honeyed glow that was timeless.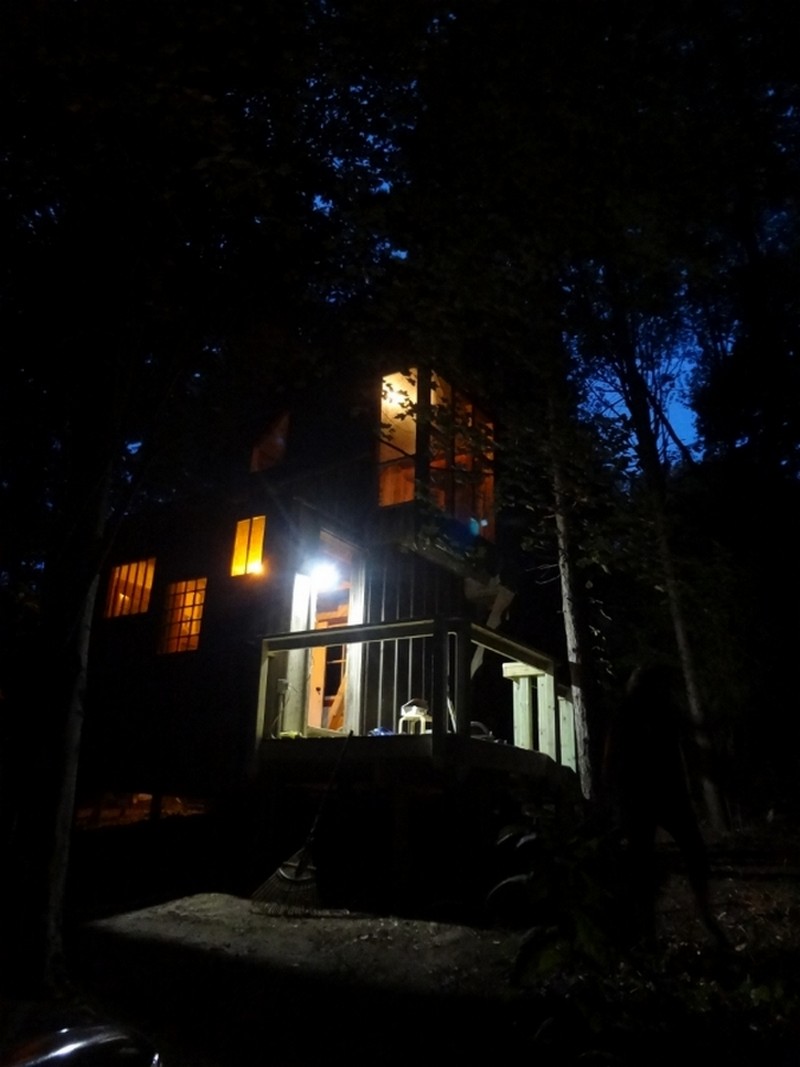 Meanwhile, David worked away at the deck outside. Within a couple days, the deck was in place. It felt almost like adding a third room to the cottage, a room with a spectacular view. The cottage was on a forested hill, so in all directions were tall trees, leaf trees and pines, where birds sang, squirrels scampered from limb to limb, an occasional rabbit bounded through, and sometimes, a deer or two would wander by.
In keeping with the whimsical angles and unexpected swoops and curlicues that showed up here and there on the cottage, David had opted not to add a rectangular deck, but purposefully misaligned it. The deck would start a couple inches out from the wall rather than extend directly from it, and rather than giving it a straight rail, David gave it a bend in the middle, which also made the deck fit nicely around a nearby pine tree. Perfect.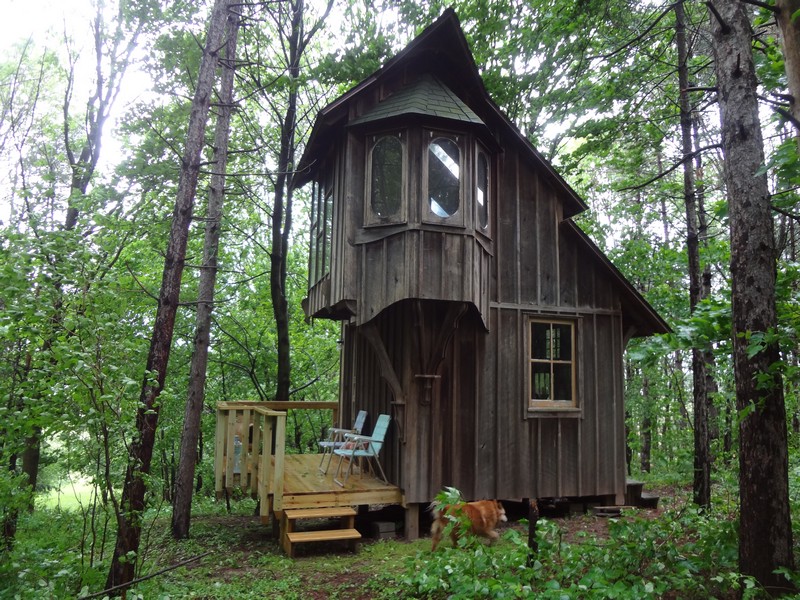 What else? Books! I'm a writer, and of course, hand-in-hand with that, a book addict. I can always use more shelves for more books. Up and down the hill I trekked, with armload after armload of books. I brought Thoreau's Walden, the story of a man living in a cottage in the woods. I brought up a selection of poetry, fiction and non-fiction, building a small library. Something for every literary pleasure. On the walls, I hung artwork by my father, artist Viestarts Aistars.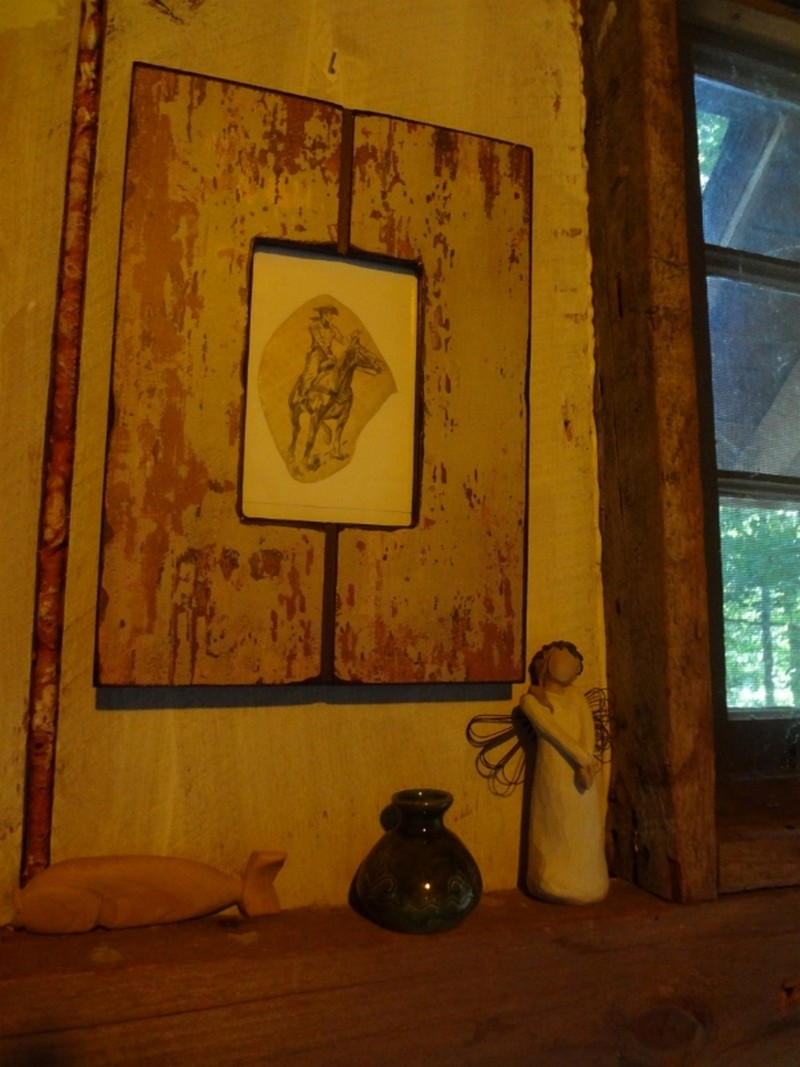 I put pens and pencils in a mug and put them on the desk. I put paper pads in the desk drawers, along with paints, markers, colored pencils, sketch pads and paint brushes. I recycled area rugs another friend no longer wanted in a redesigned room. I brought up linens for the bed and made it up, folding back the sheets. I bought new pillows, choosing woodsy and humorous designs—bears, wide-eyed owls, sleepy cats.
On a new shelf above the table went blue tin camping plates and coffee mugs, a French press, coffee beans and comforting teas. An electric burner, of course, for warming up something to drink or a one-pot meal for anyone staying overnight or having a great run on writing the Great American Novel.
Because that's what this cottage was turning into—a writer's den. An artist's retreat. A place for meditation and solitude and introspection. Cottage on the Hill, said David, or just call it COTH. And may the souls who enter it find their inner muse.
Finishing touches included a ceramic fire pit on the deck with chairs and small table, plants suited to shade planted outside just around COTH, and clearing the pathways up and down the hill.
Do I plan to do more? Sure. I am thinking about a window bench upstairs inside the bay window to add another place to sit and read among the treetops, with the seat opening for storage inside. Perhaps some misaligned rails for the deck. A layer of insulation would make it more comfortable year-round. And so the list goes on. Always something with which to tinker … you know, like when you are Home.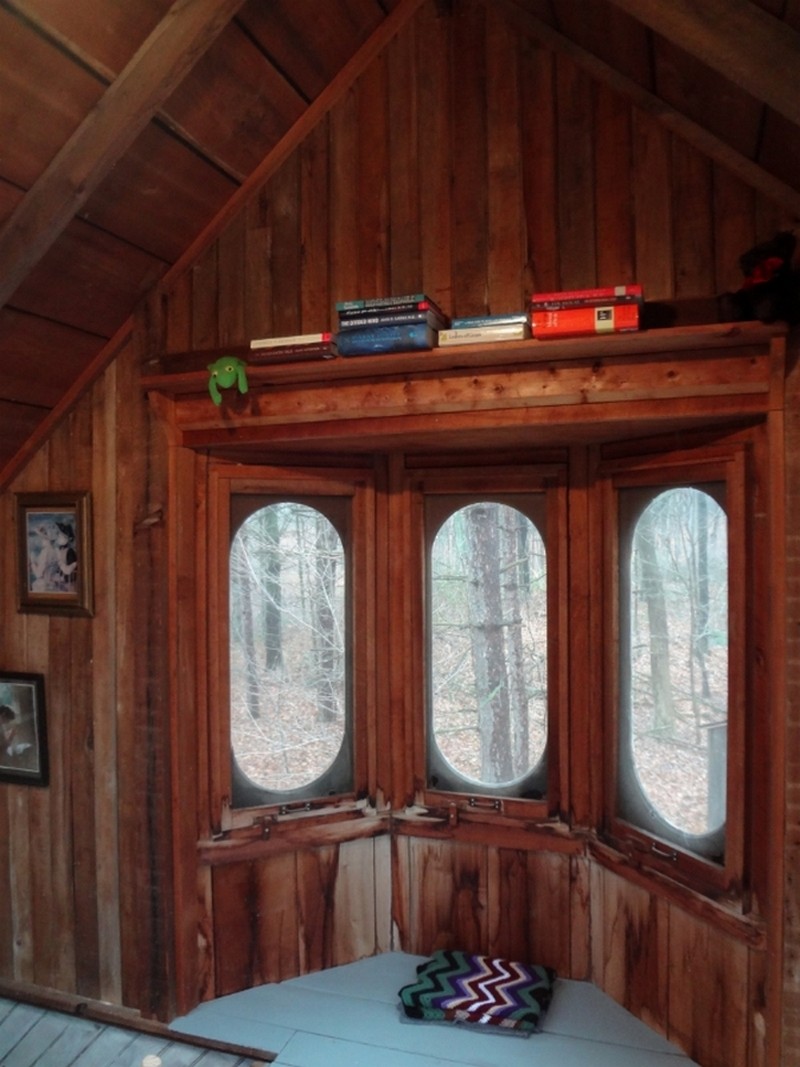 Now I go up the hill every single day to spend some time in the cottage among the trees. Sometimes I write. Sometimes I lie back on the bed and read, while Guinnez curls up for a nap on the rug. Sometimes I sit on the deck and watch the light and shadow play among the leaves dancing in the breeze, wondering about the person who built this remarkable little place, to which I have now added my touch.
Sometimes, I open the cottage door to guests, who enjoy staying at COTH for a day, a few days, maybe even a week, to take in that sense of peace that comes from living in a rustic simplicity, in which you discover that all you ever really needed … is right here. In a simple little place on a wooded hill.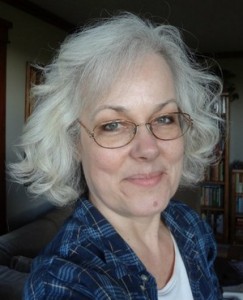 Zinta Aistars is a writer, poet and artist. She has published three books and lives in her farm in Southwest Michigan.
"I have been in love with words since I was a child, tracing shapes that would later turn into letters that would later string together into words and sentences. I can't imagine being anything other than a writer."
For more information, or to reserve the Cottage on the Hill for your retreat, contact Zinta at
You can also find more images and information on COTH here…
COTH is located approximately 35 miles north of Kalamazoo and 35 miles south of Grand Rapids, Michigan. The town of Holland, on the shores of Lake Michigan, is about 35 miles northwest, and Allegan is approximately 7 miles southwest.