Whether you are looking at homes to buy or planning to work on your own property, you'll need to rely on a combination of site plans and floor plans to get an accurate idea of what you are dealing with.
It's easy to confuse the two, or think of them as interchangeable, whereas in reality there are some important differences between site plans and floor plans, in addition to the areas in which they overlap.
Let's look at these distinct features and points of crossover so that you know how to use and interpret site plans and floor plans appropriately.
Site plans show the exterior structures on a plot of land
A quick look at site plans examples will reveal that their primary purpose is to visualize the exterior aspects of a property, including the main building as well as the other structures and features of the land on which it sits.
In the case of a domestic project, this means not only indicating the scale and position of the main home, but also the presence of other external elements such as any garage, driveway, outbuildings, and boundary markers.
Floor plans show the interior of a property
While a site plan is outward-looking and all-encompassing, a floor plan is more specialized in its scope, providing a top-down view of how the interior of a home is laid out.
As well as featuring the arrangement of rooms and their dimensions, a floor plan will go into more detail, indicating the position of doors and windows, and even indicating the direction in which doors open.
The most in-depth floor plans will go further still, showcasing not just the dimensions of rooms, but also marking off areas that may be compromised in some way, for example in the case of low ceiling height coming into play in attic rooms.
Site plans can include landscaping
On top of the exterior structures, site plans may include an overview of the landscaping that is either planned for the plot of land surrounding the home or is already in place.
From trees and paths to fencing and flowerbeds, a more in-depth site plan will factor in all this and more. This is especially useful as a way of helping to imagine what a finished plot will look like early on in the design phase.
Floor plans include room descriptions
Floor plans are often used by real estate agents as a means of plotting out what particular parts of a property might be used for once prospective buyers have moved in, even if they are not being deployed as such by the current owners.
For example, with remote work being so prevalent these days, an agent might choose to label a room as a home office or single out one of the reception rooms as a snug.
While accuracy is important when it comes to listing bedrooms, for example, floor plans do give a degree of flexibility in identifying other areas in this way.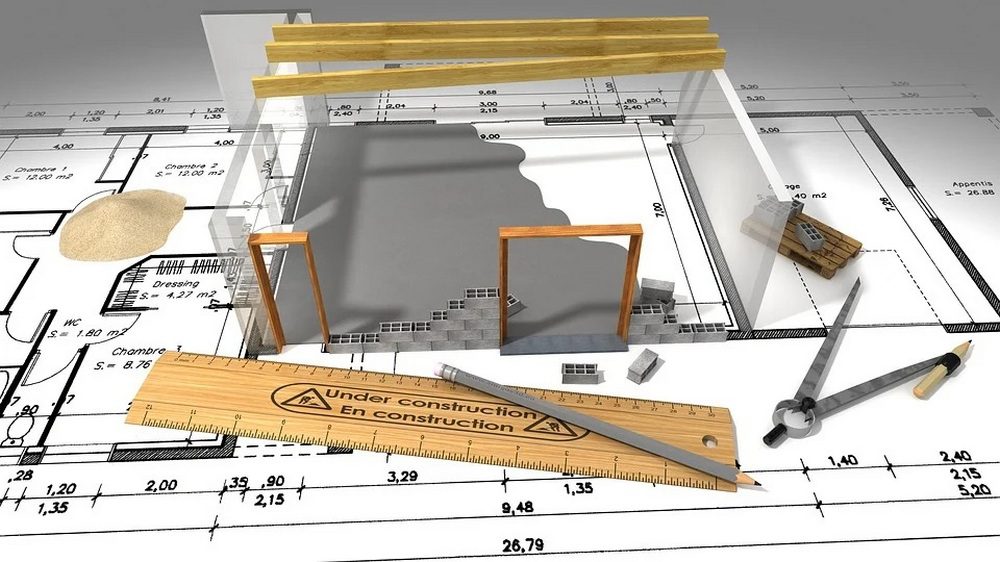 Different levels of detail are available
Whether you need a site plan or a floor plan, you have a range of options to consider in terms of the amount of detail you require.
Floor plans tend to stick with a more basic design, either in the form of a two-dimensional monochrome drawing or with color coding added to make it easier to parse at a glance.
Site plans can also be 2D and use color-coding to their advantage, but the rendering can be made more realistic with three-dimensional features, for things like the foliage, the landscaping, and even the vehicles on the driveway.
3D floor plans are an option and are helpful in terms of enhancing the ease with which interior spaces can be visualized. 3D site plans extrapolate this even further to include the structures and features of an entire plot.
Site plans may mention materials
Another of the most obvious differences between site plans and floor plans is that the former can include details of the materials which are going to be used for particular aspects of the property.
This might mean the materials that are going to go into the introduction of landscaped elements, or it could be something as simple as distinguishing the difference between a gravel driveway and an asphalt-coated equivalent.
Materials are not often mentioned on floor plans, but in the case of the more in-depth 3D examples, these may be apparent in a purely aesthetic sense. So wood floors, carpeted stairways, tiled bathrooms, and so on will be shown as necessary. Additional details on materials can be mentioned within the agent's or architect's in-depth commentary on the property.
Floor plans bring furniture into the mix
This is something of an optional inclusion, but one which a lot of people choose to implement when putting together floor plans. It's a case not only of giving room dimensions but also of including an idea of where pieces of furniture might fit.
From the arrangement of couches in the living room to the position of the bed in the master suite, floor plans will be more impactful if they take the viewer on a journey and give as much detail as possible.
An advantage of this is that it can showcase the kind of flow that individual rooms have, suggesting the high-traffic areas and indicating what use a space is best suited to, without needing to point this out with words.
Site plans and floor plans complement one another
Lastly, it is worth noting that for lots of projects, both a site plan and a floor plan are needed to achieve the best results.
The site plan is perfect for planning the exterior of a property, and while it may have elements of a floor plan included, you still need a separate floor plan to go into the more granular detail of what the interior will involve.
So now you are up to speed, you should know which you need and why you need it for your next build, renovation or reconfiguration!