Built Area:     28.0 m2
Year Built:     2017
Photographs:    Hilary Bradford
JR's Hut sits high on top of a hill in Gundagai, Australia. It offers 360-degree views of the valley and Murrambidgee River. Because of its isolated location, it's a perfect getaway place – to stop and take a breath. The picturesque setting is amazing; it's a quiet spot to recharge and refresh away from city life.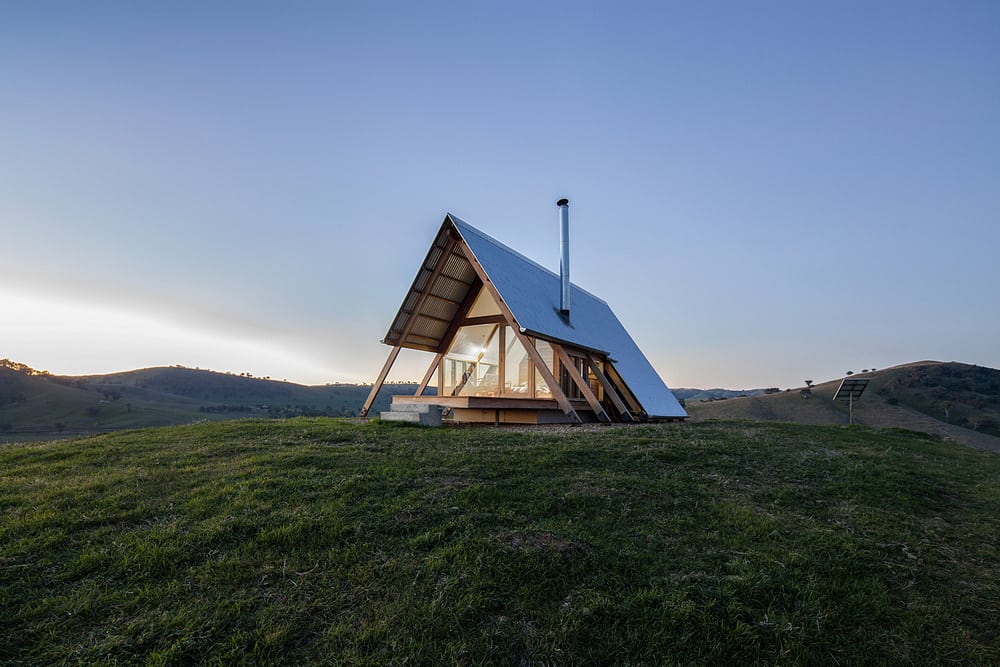 The hut is off-the-grid and totally disconnected from the rest of the world. However, it's well-equipped with amenities for day-to-day living. The hut contains a bed, a seating area, and a working fireplace. Large floor-to-ceiling windows allow plenty of light in while providing unrestricted views of the landscape.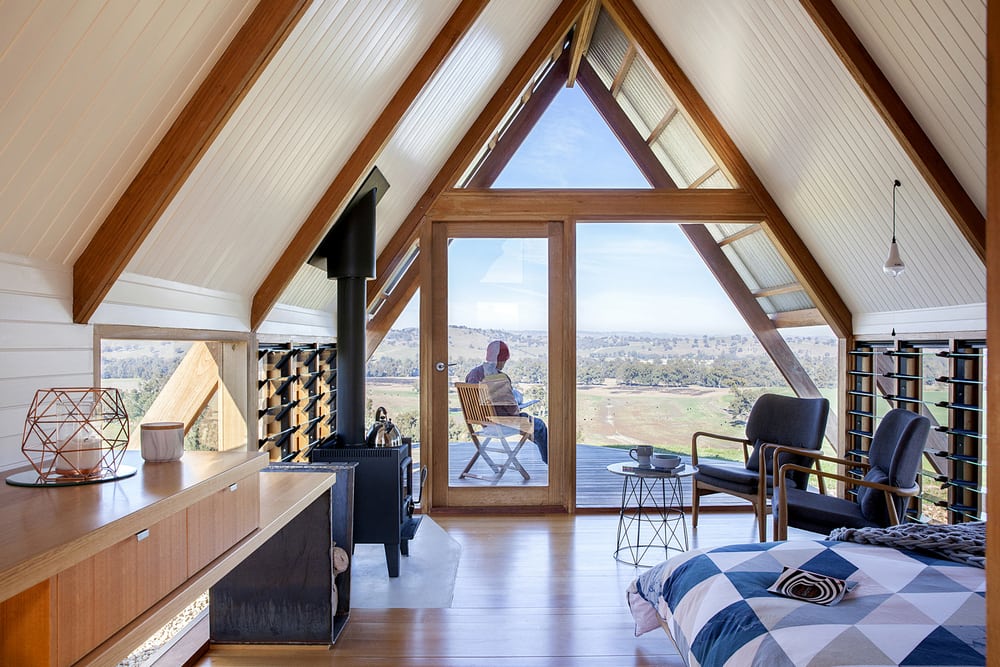 Notes from the Architect:
The Kimo Hut stands alone on a hill outside Gundagai in rural New South Wales. It is the latest addition to Kimo Estate, a second generation farm which has diversified to host weddings and provide accommodation showcasing the areas natural beauty. It is a place to switch off, quite literally, and forget about the distractions of modern life.

Sustainable Australian hardwoods were the obvious choice given the huts 'eco' brief and remote location. Materials needed to be easily sourced and handled on site by a two person owner-builder team.

The huts form was inspired by a classic 'A' frame tent, which simultaneously provides both refuge from, and connection with, the natural environment. An expressed hardwood structure anchors the building, defining the interior spaces and framing views of the surrounding farmlands. Timber features throughout the hut, with hand crafted details recalling the character of agricultural buildings found on the property.
Click on any image to start lightbox display. Use your Esc key to close the lightbox. You can also view the images as a slideshow if you prefer. ?
Exterior Views:
Interior Views:
Drawing Views:
If you liked JR's Hut, then you'll also like Sweden's 72h Cabin…