Hamyang-gun, South Korea – Bang Keun YOU
Built Area: 170.0 m2
Year Built: 2014
Photographs: Kwang Sik JUNG
Jirisan House is hard to miss – or difficult to ignore. Its striking red color is eye-catching, after all. It sits on a mountain, surrounded by a picturesque landscape. The area is like poetry that came alive. With the changing of the seasons come the changes in color – truly a spectacular sight. Every day, the homeowners are treated to breath-taking panoramas of a mountain summit and that of a valley.
The architects were very careful not to disturb the natural beauty of the site. As such, Jirisan House was designed to blend with its surroundings using colors and materials that respect the earth. Large glass windows were used to grant easy visual access to the outdoors. The surrounding views are breath-taking so why not bring them indoors?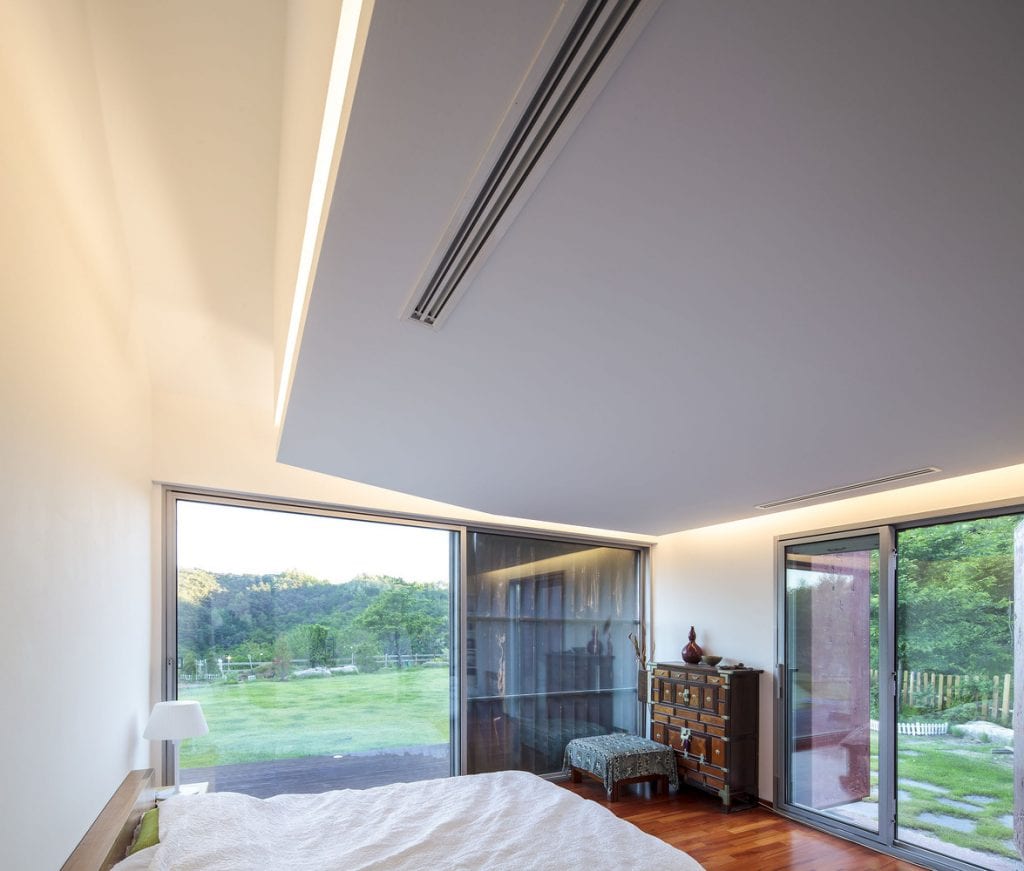 Indoors, Jirisan House reflects warmth and simplicity. White walls brighten up the space with dark floors providing a great visual contrast. The architects describe the house as a cocoon – a safe haven for the homeowners who love to be in the midst of nature.
Notes from the Architect:
The client's first intention was to locate the house further down the valley; but in my eyes there was a much evident location.

Indeed locating the project site higher on the mountain, would provide a pleasant distant panorama of Cheonwangbong (Jirisan mountain's summit), and at the same time a view over the valley and the small village. A poetic landscape picture, with colors changing every seasons, that could be peacefully contemplated through the house's large window "frames".

As always, if not handled with sensitivity, designing a project on a naturally virgin site can easily turn into a serious disaster. To appear legitimate among this wonderful landscape, the project had to draw from the nature's spirit, and communicate with it.

So came the idea of an organic concept, each volumes nesting harmoniously with the surrounding environment; This harmony is by the way reinforced by the use of natural earth toned materials, inspired from Jirisan mountain's seasonal colors.

From the entrance door, the plan layout develops from either side of the main circulation axis going upstairs.

On the right the kitchen, dining room and bathroom, opposed to living room and bedroom on the left, with large windows facing the valley view. Thereby the dynamic space is distinctly divided from the resting space.

The living room wooden floor material turns over the walls reinforcing the cocoon feel.

Similar to a waggon, the different interior spaces are connected in one single homogenous entity, covered with a copper fabric.
Click on any image to start lightbox display. Use your Esc key to close the lightbox. You can also view the images as a slideshow if you prefer.
Exterior Views:
Interior Views:
Drawing Views:
Did you like this house? If you did, then you'll also like Tranquility House from the same country…