There are lots of urban dwellers who have abandoned the gas guzzler and shifted to a more efficient and environment-friendly way of getting around the city. A bicycle is a more practical means of transportation as it saves you money on gas. It doesn't produce any emissions, it ensures you exercise and it will often get you to your destination faster than a car can!.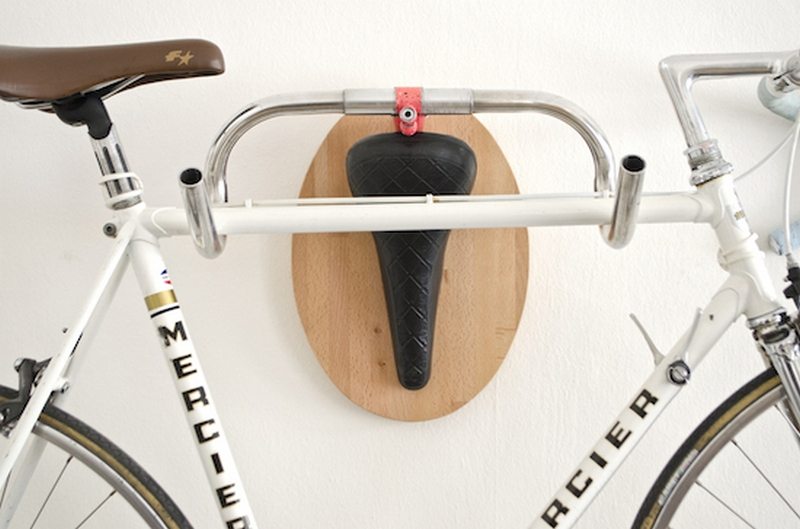 But one of the challenges of having a bicycle is a place to store it. Not all of us are fortunate enough to have a garage. For those who are living in a small apartment, storage space is a luxury.
Fortunately, clever people have come up with lots of space-saving bike storage solutions you can install in your home. We've collated the best space-saving bike racks below. Hopefully you'll find one that you can easily build yourself and that suits your home!
Click on any image to start lightbox display. Use your Esc key to close the lightbox. You can also view the images as a slideshow if you prefer  😎
Bike Storage With Green Roof
Who would have thought that this is a bike rack. This bike storage keeps your bicycles protected from the weather with it's green roof. Not to mention that you can grow your favorite vegetable or flowers. It also keeps your floor clean as the mud from the tires is kept outside.
PVC Bike Rack
This bicycle rack doesn't only save you space, it also saves you money. Store bought bike racks can cost you money depending on the brand. Why spend that money when you make one from left over PVC pipes. And even if you don't have any PVC pipes lying around you home, buying a couple of lengths won't cost a fortune.
Pallet Bicycle Rack
If you don't have a lot of building skills this particular bike rack is for you. Yes the humble pallet strikes again. This inexpensive resource is a great material for building your own bike rack. In fact it doesn't require a lot of modification for you to store your bikes as you'll see in the images below.
Handlebar Bike Hanger
Got some spare handlebars? Put them to good use by turning them into a bike hanger. This saves you precious floor space, and is a creative way of hanging your bicycle.
Vertical Bike Rack From 2x4s
The solution to your bicycle storage problem can be found in your scrap pile. Gather up leftover 2x4s from your previous project and build this vertical bike rack. Clever isn't it?
Steel Pipe Bicycle Hanger
For durable and industrial looking bicycle hanger use steel pipes and fittings. You won't need to a lot of work if you have the pipes cut and threaded in your local hardware. When you get home you just have to assemble the hanger and install to stud in your wall.
Wooden Pole Bike Hanger
This is the simplest material to use in building a bicycle hanger. However you need to find a clean way of installing wooden poles to the studs without ruining your drywall. Nevertheless it's a unique and minimalist way of hanging a bicycle.
Overhead Bike Rack
If you're living in a small apartment and space is at a premium, an overhead bike rack suits you. Your bicycle won't consume any floor space as it is neatly stored on your ceiling. The video below shows you a clever overhead bike storage system that you can build yourself.