Built:     2005
Site Area:     38m2
Few of us have ever lived in 38 m2 (410 sq. ft) let alone on a 38 m2 site!  We have previously featured the work of this architect and, when suggesting a feature on another home, Megumi, the practice manager, said 'Pick mine!  Pick mine!"  And like her, we fell in love with this tiny home and the dreams beneath it. As the name suggests, it's a story in two parts.  The first is written by the architect, Takeshi Hosaka.  The second is written by Megumi…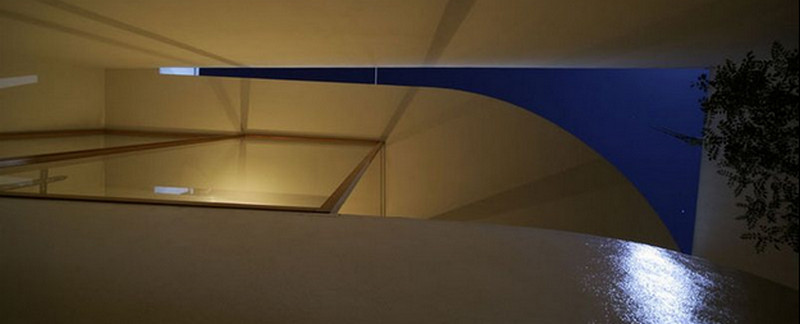 Part One:
LOVE HOUSE is a house for a couple.
I drew the biggest curve possible with width and depth of a building, I distributed a place for the roof and a place for the sky with the curve、And I planned the stairs which went up from the first floor to the second floor with this curve. The main space of the building which these created, it is with the space that it "is not inside, and is not the outside". Quiet rain, intense rain, rain with wind … rain creates various sounds. Light of the sun and moonlight play in the LOVE HOUSE, and rain and wind visit LOVE HOUSE, and birds and insects visit a tree and a fruit tree of LOVE HOUSE. We can know that all nature given on the earth can be enjoyed in this very small LOVE HOUSE.
Part Two:
It is LOVE HOUSE which I photographed at the night of the full moon of March. It is smallest as a building work, but there is almost all the elements of nature as the imperative construct of the earth including light and wind. I think that all of elements of such nature makes life wealthy, and there is night as the one. Because the light of the night moon and stars goes out in artificial illumination, in this house, I do not touch lighting equipment in the main space. With candles, I usually assume moonlight as a part of life. (when I read a book, I hang a naked bulb to a candle arm.).
Click on any image to start lightbox display.  Use your Esc key to close the lightbox.  You can also view the images as a slideshow if you prefer  

Another home by the same architect is the Outside In House…