We're used to the concept of 'mobile homes' and pre-fabrication.  In fact, the two are synonymous.  The Joshua Tree is a new take on the concept, delivering a very high quality product that is claimed to be genuinely capable of mobility.  Manufactured by Agora Prefab, the home is built with overlapping zinc titanium tiles and raw larch veneer.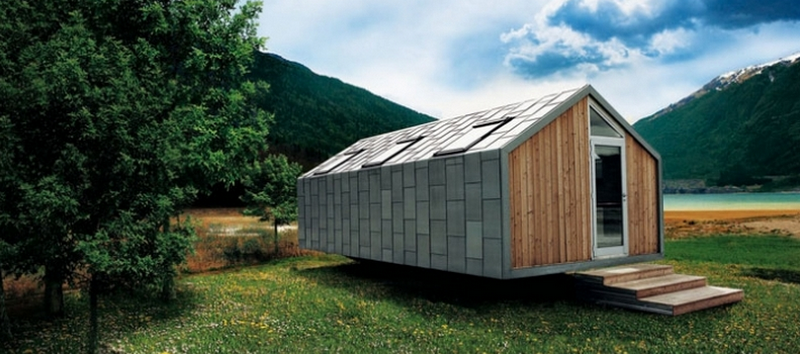 There are apparently various layouts within the predetermined exterior dimensions.  For example, you can choose two bedrooms and a compact kitchen or trade one bedroom for an enlarged kitchen. The home can be easily extended with the inclusion of a patio.
The architect's notes are shown below the image gallery.
Click on any image to start lightbox display.  Use your Esc key to close the lightbox.  You can also view the images as a slideshow if you prefer  

Notes from Hangar:
"With a sophisticated and demanding clientele in mind, this mobile home designed by Hangar Design Group overturns the concept of ephemeral temporariness traditionally tied to prefabricated structures, in order to present a true micro-house, able to offer functional solutions with a high design content.
In line with contemporary trends of nomadic living, this mobile home has been conceived to be flexible, reversible and customized. At the same time Joshua Tree is able to interpret the living needs of a permanent home with appeal, starting from an extremely rational planimetric layout, where there is room for everything: it does not sacrifice any of the functions of a permanent home, and it includes common living areas (kitchen and living room), space for rest and well being (bedrooms and baths) or relaxation (verandas), giving forms and functions to suit different moods.
Designed to be entirely built in the factory, like a true product of industrial design, Joshua Tree also incorporates elements of home automation that increase their potential in terms of management and control technologies for windows, air-conditioning and heating systems, if they exist, in order to obtain greater comfort and consequent energy savings.
An absolutely new aspect is also the territorial contextualization offered by the product, which puts the architecture – environment ratio first – in a way never before seen in the segment of mobile homes, and anchors design to the morphological aspect tied to the scenario type it was conceived for. Therefore, the visual concept considers mood as well as functionality as a critical issue.
Joshua Tree is the mobile home conceived for a vacation at a high altitude; it recovers the profile of an Alpine refuge, with its sloping roof and panoramic views of peaks, bringing to mind the mountain "baita", also thanks to the use of combined stave wood that covers its warm soul on the interior.
The type of furnishing is chosen to create a stylistic code with a strong impact and recognizable elements characterized by clean lines, contemporary style and attention to detail.
The external covering strikingly interprets the technological mix used in the materials: steel, zinc and titanium make up large plates employing the method of traditional wooden shingles. Over time the material oxidizes, giving the structure a more opaque tonality, which better suits the snow-covered landscape.
From the inside, the spacious ceiling windows afford a lovely view of snow-clad peaks. The warmth of wood creates a unique inviting atmosphere. A reinterpreted version of mountain dwelling, an ideal mountain refuge for young families or couples: a continuous metal structure combined with a unique interior enhanced by the warmth of natural wood.
Created to accommodate from 3 to 4 people, Joshua Tree does not sacrifice the comfort of ample living space, with two bedrooms and baths it is perfect to host young families or groups of friends."
A similar concept you might enjoy viewing is the Mini House…