Year Built:     2008
Photography:     Charles Hosea
Originally, an outbuilding for the adjacent mill, the Apprentice Store had four more separate buildings added to it over a 200 year span.  While the building was registered as a heritage building, it had long since slipped into the stages of final decay.  This new conversion connects all five buildings via a series of stairs and walkways, integrating the whole into a large family home.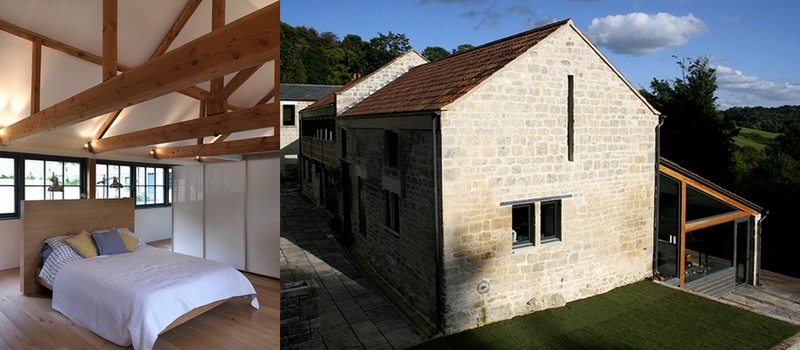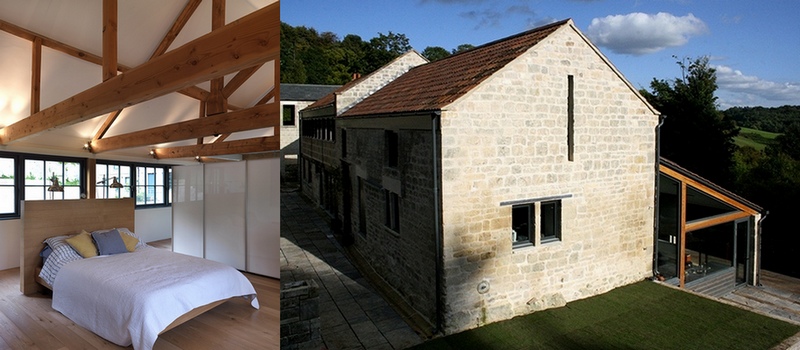 From the architect's notes:
"The Grade II Listed Apprentice Store started life as a single ancillary building for the adjacent DeMontalt Mill and had been gradually added to over the course of 200 years, evolving 'organically' into four conjoined but unconnected buildings. The site is in an Area of Outstanding Natural Beauty just outside of Bath and commands far reaching views of the valley where it stands.
The buildings were on the English Heritage Buildings at Risk register and gradually slipping down the valley due to the unstable geology beneath. Prior to the commencement of project on site, Threefold Architects undertook complex negotiations with the Bath Conservation team to obtain the required permissions for building.
The design approach for this project was driven by a desire to rescue the existing building and ensure its reuse by converting it into a sustainable modern family home. The strategy Threefold Architects followed was a sensitive restoration of the original features by traditional craftsmen and the insertion of contemporary elements expressly articulated from the existing fabric. The scheme knits the four buildings together with a delicate ribbon-like circulation. This passes through a sequence of delightful spaces including large open plan living areas on the south side overlooking the valley and bedrooms across two floors on the more private north side.
Natural light is drawn into the building at every opportunity and used in combination with a palette of simple and robust materials and careful architectural detailing. This approach serves to create a series of dramatic interlinked spaces for this contemporary home."
Threefold Architects were awarded a 2009 RIBA Design Award for The Apprentice Store project.
Click on any image to start lightbox display.  Use your Esc key to close the lightbox.  You can also view the images as a slideshow if you prefer  

Another revival you're sure to enjoy viewing is The French Resurrection…