Year built:     2012
Photography:     Brett Boardman
By old world standards, Sydney is a young city. The suburb of Glebe was developed in the mid-19th century. It's an area of mostly small lots, terrace and semi-detached homes interspersed with the occasional mansion. Somewhere in the midst of this a cowshed survived the urban sprawl that has now turned Sydney into one of the great cities of the world.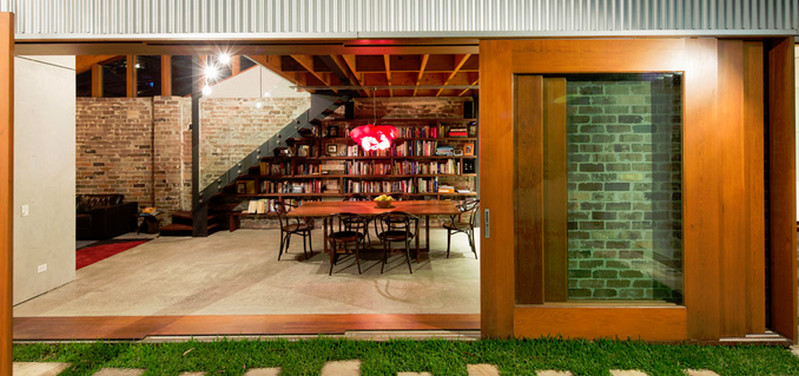 The original L-shaped structure sits on a corner site. A previous adaptation provided a two bedroom dwelling which looked onto a large rear courtyard in the north-west corner of the site. The new owners bought the property with an existing council approval and plans for a substantial renovation which would have meant the demolition of most of the old structure. However, the new owners felt that the existing footprint and aspect was perfect and decided to try to preserve the integrity of the unusual existing dwelling while making it more habitable and better suited to their growing family.
"We also loved the sense of protection and privacy from the walled boundary and the suntraps in certain rooms, so it was really important to us to keep the L-shape and just reconfigure some of the spaces." s
In an age of 'whiz bang, look at this', this renovation has been completed without the use of exotic materials, complex feats of engineering or a vast budget. Through careful attention to detail, the use of common building materials and building methods has resulted in a relatively simple home, yet dramatically different home.
Major Awards:
Winner – 2013 NSW Australian Institute of Architects –  Residential Architecture Award, Alterations & Additions
Winner – 2013 NSW Australian Institute of Architects – Sustainable Architecture Award
Commendation – 2013 NSW Australian Institute of Architects – Colorbond Commendation

Click on any image to start lightbox display.  Use your Esc key to close the lightbox.  You can also view the images as a slideshow if you prefer  

Another conversion you will enjoy viewing is the

Extension to a Barn

…