Built area:    200.0 m2
Year built:    2008
Home for Life is a residential structure that has net zero carbon footprint. It actively makes use of solar energy by producing solar heat and electricity. Combining form and function, the idea behind this architectural piece is something that greatly benefits the environment.
The home is built out of timber. Its slate-clad façade gives the home a timeless appeal, sure to remain relevant many years from now.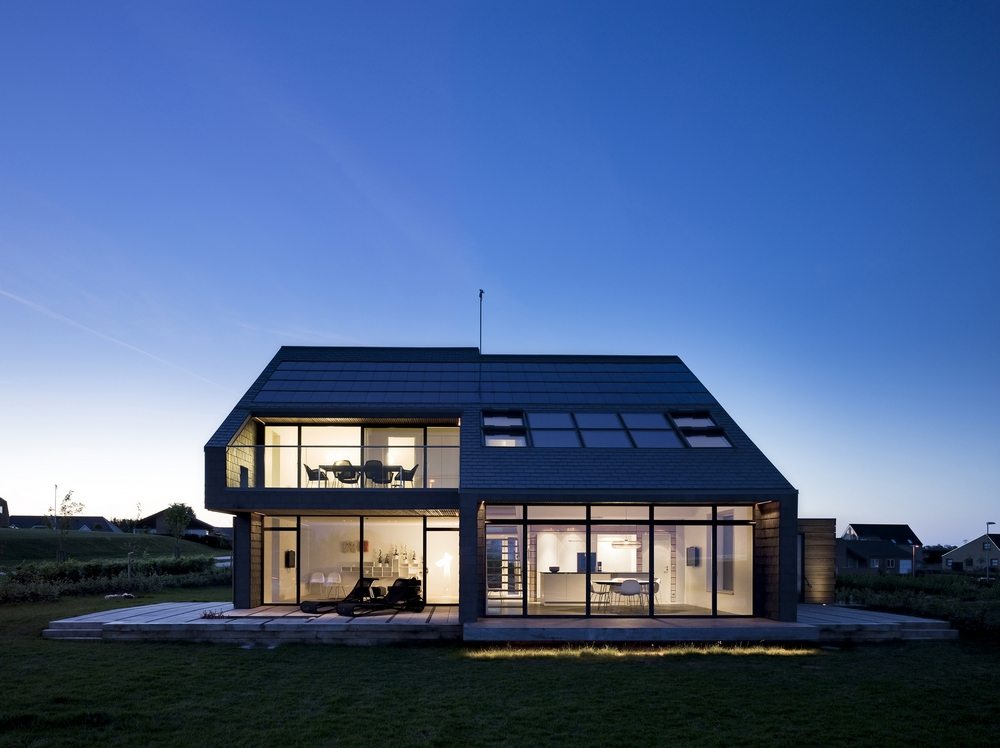 The home boasts of large glass windows that allow plenty of natural light in. As such, daylight use is maximized, eliminating the need for artificial lighting.
White is the predominant color inside the house, from walls to the ceilings. Neutral-toned furnishings and recycled glass mosaic floor tiles tie up the whole space together.
Home for Life is a prime example of the limitless potential of architecture. Green, sustainable homes are possible. It presents a lot of possibilities for future use.
Notes from the Architect:
With buildings accounting for 40% of carbon emissions in the Western world, and 30% of buildings having deficient indoor climates, we sought to create a carbon-neutral building that would benefit from solar energy, both actively by producing electricity and solar heat and passively by benefitting from the heat of the sun.

Together with engineers, manufacturers and researchers, we came up with the design for Home for Life – an active house producing more energy than it consumes. With an expected energy surplus of 9 kWh/m2/year, it takes Home for Life approx. 35 years to produce the same amount of energy that was used to produce its materials, and by that time, the house will have returned more to nature than it has consumed. Over the long-term, therefore, the house will be an asset for rather than a burden on the environment.

Furthermore, the structure of Home for Life is made of wood, while the facades are clad with natural slate, the floor tiles consist of mosaics of recycled glass and the windows use the latest energy-conserving glass technology. In addition, the window area represents 40 percent of the surface area, which is twice the area compared to a traditional single-family house.

In this way, Home for Life ensures a healthy indoor climate by optimizing daylight, creating a close contact with nature and having integrated sensors that measure the heat, air humidity and CO2 in all rooms. The house also has an automatic facade system that adapts to the seasons of the year and draws fresh air into the house.
Click on any image to start lightbox display. Use your Esc key to close the lightbox. You can also view the images as a slideshow if you prefer. ?
Exterior Views:
Interior Views:
Drawing Views:
Speaking of sustainable homes, you should see this Expandable House in Batam, Indonesia.