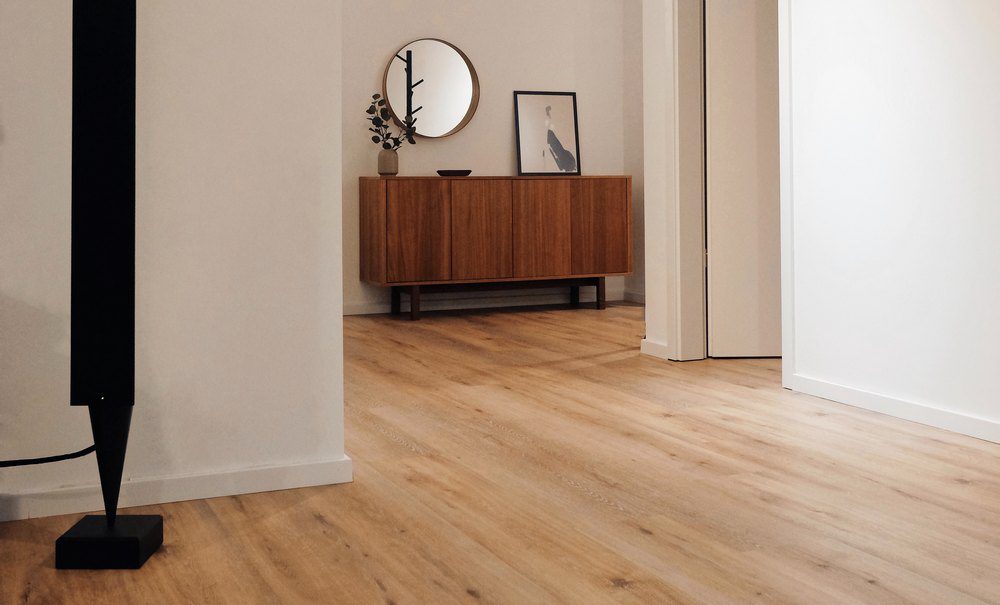 Vinyl plank flooring is a hit with homeowners and corporate office buyers alike. It's more durable, affordable, and easier to maintain compared to its main competitor: real hardwood.
While there are many great reasons to install a solid hardwood floor, you're pretty limited when it comes to your options. Sure, you can dye real hardwood, but you can't form it into different shapes or patterns unless you go custom. At that point, you're spending thousands of dollars.
Fortunately, you can spend time and money on any home improvement project if you opt for vinyl. Plus, you can find vinyl floors in any color, type, or look you desire. If you want to install a bold, attractive, and eye-grabbing statement anywhere in your home, we have you covered.
What is Vinyl Flooring?
Vinyl flooring is a product consisting of multiple layers of different materials placed on top of each other. The two most common types of vinyl flooring, Luxury Vinyl Tiles (LVT) and vinyl roll, are made from the same materials, but they're constructed differently to create certain effects.
For example, LVT is made to imitate hardwood and ceramic tile, whereas vinyl roll imitates pretty much everything else. If you come across an interesting floor design, it's likely a vinyl roll.
Homeowners will invest in beautiful vinyl flooring because it's durable, waterproof, resistant to scratches and stains, and less expensive than real hardwood or other flooring styles. A properly maintained and washed vinyl floor can last up to 25 years in nearly any room in your house.
13 Vinyl Flooring Types, Colors, and Looks You'll Love
The best part about vinyl flooring is its versatility. You'll find hundreds of vinyl flooring types, colors, and looks that add personality or simply tie a space together.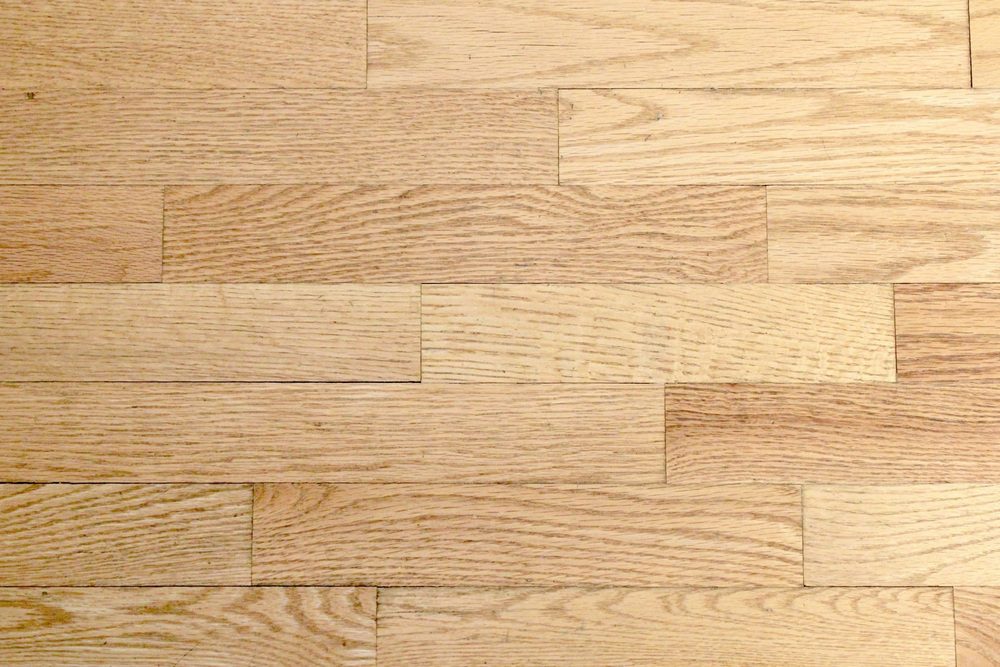 1. Large Plank Style Vinyl Floors
Big and chunky wood vinyl flooring is super popular in 2022, and it's going to make its return in 2023. While not as interesting as the other options on this list, you can't go wrong with a red, brown, gray, or white vinyl wood floor. Make sure you install it in strips for a more authentic look.
2. Hexagon Florals Vinyl Floors
With a mix of hexagons, a variety of floral prints, and pastels, this vinyl floor is a dream to look at. You will probably get lost in all the designs that somehow fit together, despite the artist using different mediums and techniques. Don't put this pattern in your office; you'll get distracted!
3. Geometric Stars Vinyl Floors
Geometric stars conjure up images of the 60s and 70s, but you don't have to be old-fashioned to love this beautiful vinyl flooring. A geometric star vinyl floor can make an otherwise gray room pop, or you can keep this pattern in a room that's already loud, to begin with, like a kid's room, for example.
4. Kikko Patterned Vinyl Floors
The Kikko pattern, or "turtle shell" pattern in Japanese, has a long history. Originally found in the 12th century B.C. Babylon, Kikko is considered a sign of good luck, eternal youth, longevity, wealth, and prosperity in modern-day Japan, making it a great pattern to keep in your home.
5. Van Cleef Vinyl Floors
The Van Cleef & Arpels famous four-leaf clover-inspired design, The Alhambra, is meant to be worn as a casual jewelry piece that reflected the changing times. The pattern looks stunning on a kitchen or bathroom floor, especially when it appears to be laid flat on white marble.
6. Cecilia Patterned Vinyl Floors
While you're more likely to find the Cecilia pattern on wool sweaters, it looks incredibly elegant when placed on the floor. Most Cecilia patterns are geometric and light-colored, but they still manage to pop against any background. You can even find multi-colored designs and shapes.
7. Eclipsed Circle Vinyl Floors
If you're in the mood for something more artistic or contemporary, try something like the eclipsed circle vinyl floor. You can mix and match each pattern, check the color, or flip it around to bring some creativity and dimension to the space. This pattern will look perfect in a laundry room.
8. Houndstooth Pattern Vinyl Floors
Houndstooth or "pied de poule" is another millennia-old pattern that dates back to 360 B.C. It's literally known as the pattern of Scotland, and thanks to modern designers, you can put it on your floor. This colorful design will work well in an office, bathroom, kitchen, or hallway.
9. Yellow Herringbone Vinyl Floors
The herringbone or criss-cross style won the popularity contest in 2022. In 2023, we'll see it coming back in new, exciting ways. For example, instead of using wood to form this pattern, we're seeing colorful geometric twists that break tradition. As you can see, it looks incredible in yellow.
10. Art Deco Design Vinyl Floors
Art Deco didn't stay in our hearts or imagination for long, and it's a shame because you will not find another art form like it. Fortunately, artists are fond of art deco, so we see it pop up from time to time. This evocative fan design is cool, fun, and bound to be a neighborhood favorite.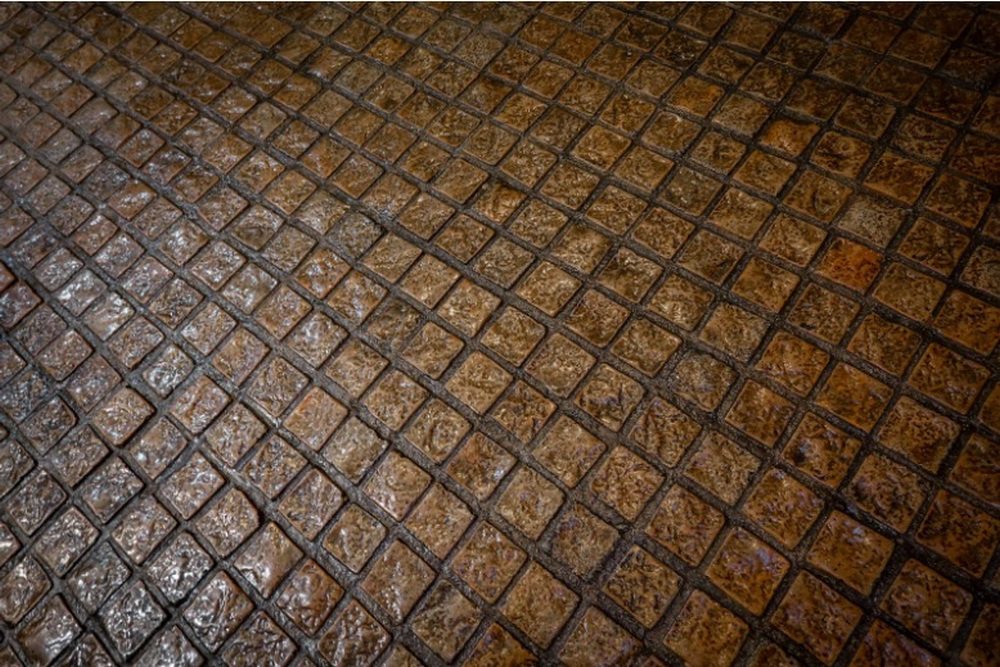 11. Brown Stone Style Vinyl Floors
While it's very possible to make your own stepping stones, this little project will probably cost you an arm and a leg. Instead of investing that kind of time, use vinyl flooring that looks like brownstones for your bathroom and kitchen. It can make any space more earthy and fresh.
12. Colorful Polka Dots Vinyl Floors
Polka dots bring up a lot of memories of childhood fun and intrigue, and it's rare to find homes that sport this pattern. But if you're totally dotty, you can find a vinyl floor that speaks to your inner child. Whether you prefer something loud or muted, this pattern is sure to impress.
13. Hudson Style Vinyl Floors
Hudson floors are as classic as the white and black checkerboard tile that continues to be popular in American kitchens. The Hudson is like an offshoot of that classic style. This pattern is more subtle and elegant now that honeycombs are used instead of squares.