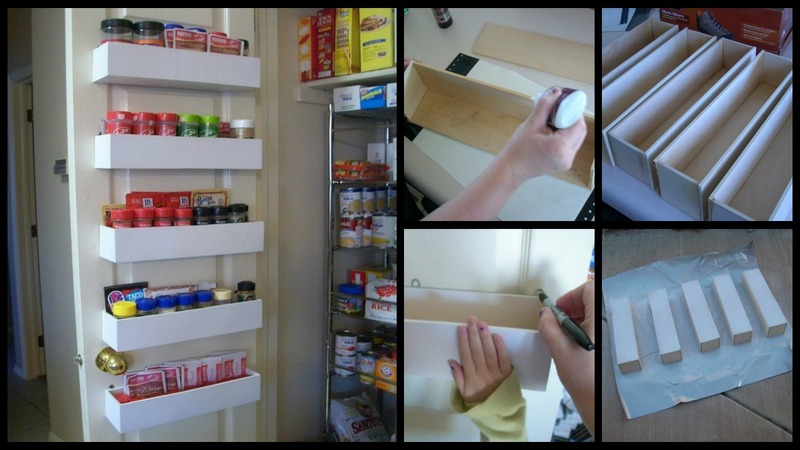 Not everyone can afford a spacious farmhouse-style kitchen. An expansive, well-ordered kitchen is beyond the bank accounts of most people these days.  So many of us have to deal with tricky kitchen storage dilemmas.
You either have to extend your kitchen to have more space, or you look for simple and inexpensive solutions, which is not always easy.
Storage space is only part of the equation. You might be able to achieve some semblance of order by cramming items into a few small kitchen cabinets, but then that will create new difficulties.
We've probably all experienced deep shelves where only a torch and a lot of shuffling can locate the item you're seeking.
Narrow, well-planned shelves offer immediate visibility but where can you place those narrow shelves without losing wall space? The answer is on the back of your cupboard doors.
As this home-owner knows, it's a much cheaper and more immediate solution than an expensive kitchen redesign.  You can buy shelving similar to this but the cost was more than what she's willing to pay. She decided to make her own. The result is this clever spice rack that hangs on her pantry door. This idea saves storage space inside the pantry and makes it easy for you to find and access the spices you need.
The materials used for this project are fairly cheap. And it only requires basic tools and woodworking knowledge. You can finish this project in a couple of hours given that you have all the materials and tools needed.
Materials list:
All materials can be purchased from your local hardware store.
Timber:
10 pieces of 14" x 3" board 1/4″ thick as the long sides of the racks
5 pieces of 13.5″ x 3″ board 1/4″ thick as the bottom pieces of the racks
10 pieces of 3″ x 2 & 15/16″ as two small end side of the racks
Hardware:
15 pieces tox
15 pieces screws
15 pieces picture frame holder
Wood Glue
Tools:
Hand saw
Power Drill/Driver
Sand Paper
Paint
Click on any image to start lightbox display. Use your Esc key to close the lightbox. You can also view the images as a slideshow if you prefer 😎
If you liked this project, you will also like viewing these easy DIY projects…