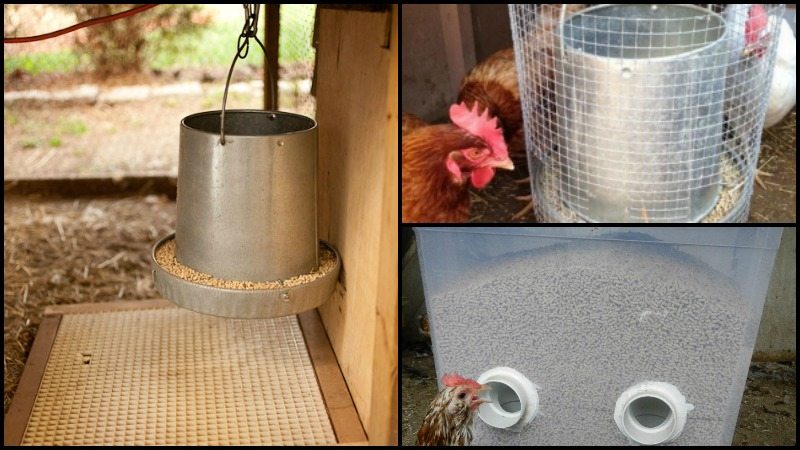 Wasted chicken feeds can cost you more than you're willing to charge as leftovers. So if you're planning or are already raising chickens in your backyard, keeping wastage to a minimum is essential.
Your choice of chicken feeder will help you save on feeds by reducing or eliminating wasted feeds.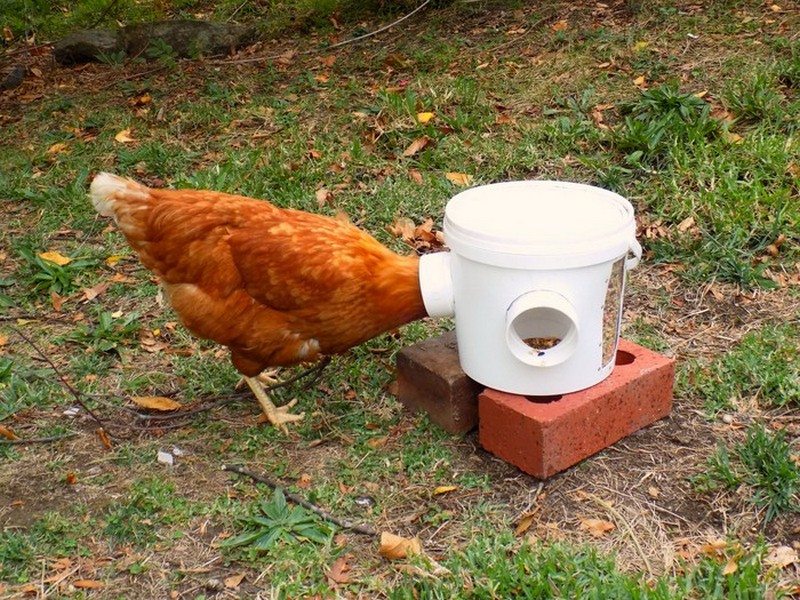 Although store-bought poultry feeders are designed to prevent feeds from falling on the ground or getting eaten by pests, they aren't always foolproof.
Sometimes, a little modification may be in demand. Other times, making an entirely different from conventional chicken feeders may be needed.
Our Pick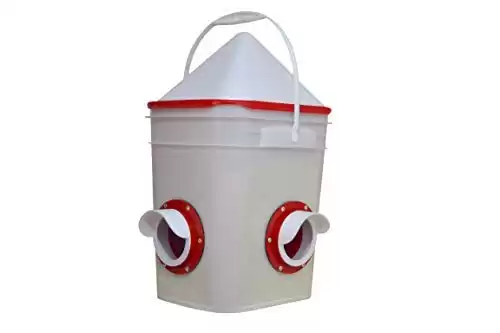 Choosing the right feeder, whether store-bought or bespoke would depend on the circumstance. The most common reasons for wasted chicken feeds are the weather and critters trying to steal their food. Our chooks are simply messy eaters!
Fortunately, there are various solutions to this problem – and they're all designed to address the different causes of chicken feed waste. So your choice of the feeder should be what best suits your situation.
Other factors to consider would the availability of materials and how you can maintain the entire place.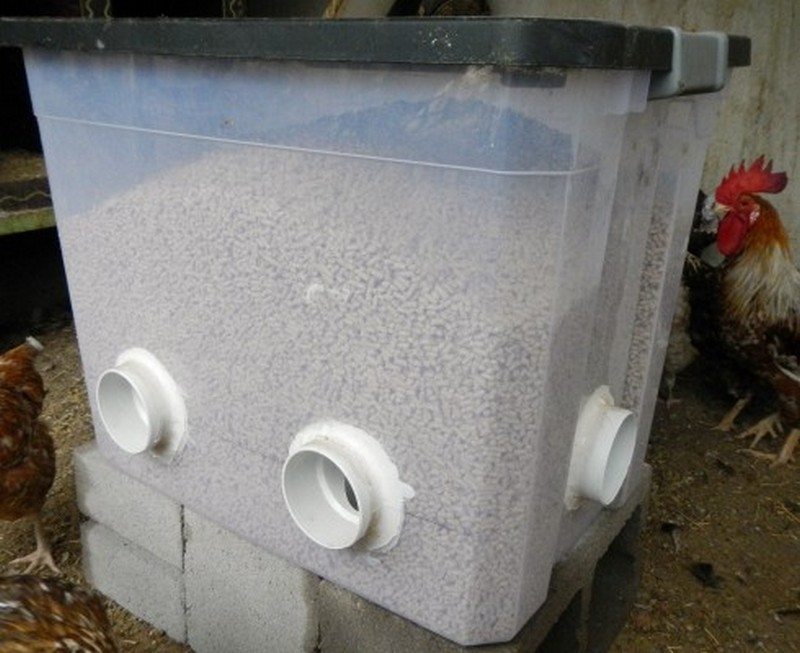 The good news is we found these clever solutions listed below. Let us know which one would be the most suitable for your chooks. 🙂
Click on any image to start the lightbox display. Use your Esc key to close the lightbox. You can also view the images as a slideshow if you prefer.
A chicken treadle feeder protects the feeds from undue exposure to the weather as well as from critters. But it allows your chickens to access their food when they are hungry.
The fun part is teaching your chooks how it works. Don't worry, they're actually smart and a quick study!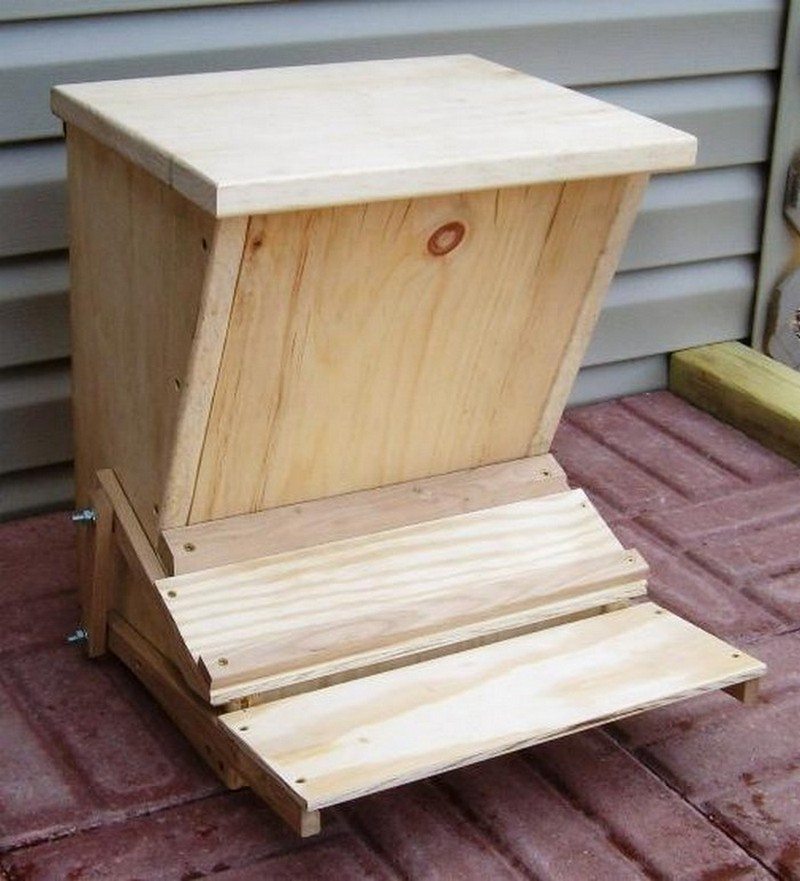 Hanging Chicken Feeder with Catch Box
A chicken feeder that is on the ground can attract pests such as mice, rats and even snakes. The pests will have an easy time getting to the chicken food, which could influence your chicken's health.
The feed will also easily spill over to the ground, attracting more pests. To prevent these things from happening, you can install a catch box. A catch box is a container that is installed on poles above ground.
A container is a good place for you to store the chicken feed, and it will be a challenge for pests to get to the food. The open top and sides of the container also allow for you to easily fill the feeder and for your chickens to access them.
Its mesh has holes big enough for fallen feeds to go in but small enough to keep critters from reaching them. This way you can put the feeds back into the poultry feeder!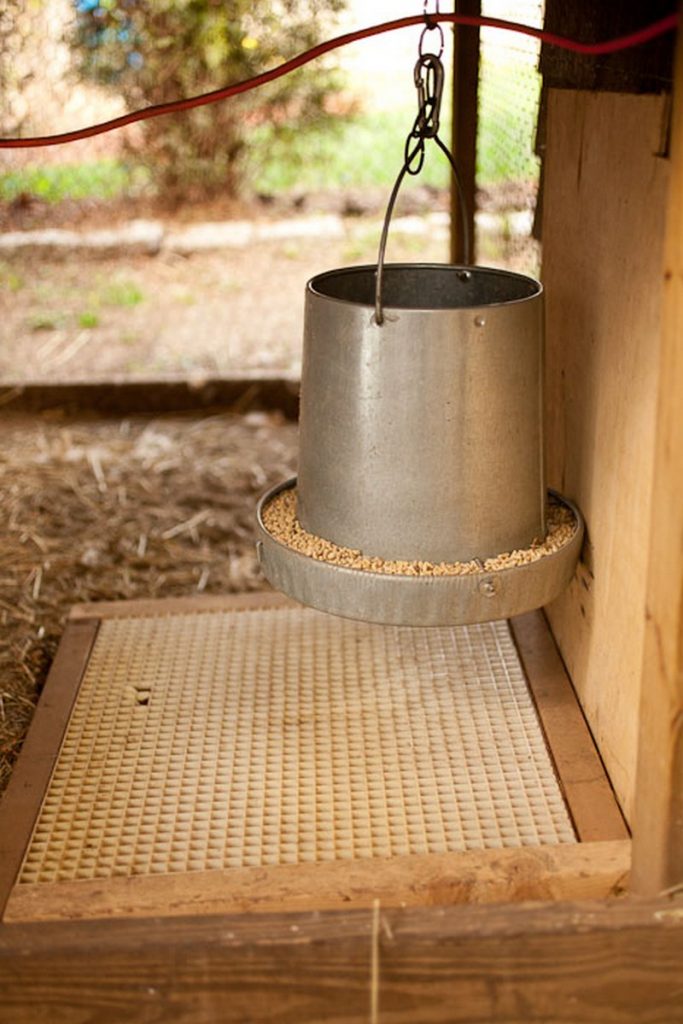 This chicken feeder made from a bucket and PVC elbows is another way to prevent your chickens from scattering food all over the place.
They stick their heads inside the pipes to get to the feeds and whatever they can't bite into falls back into the bucket. What's also great about it is you can easily move it from one place to another.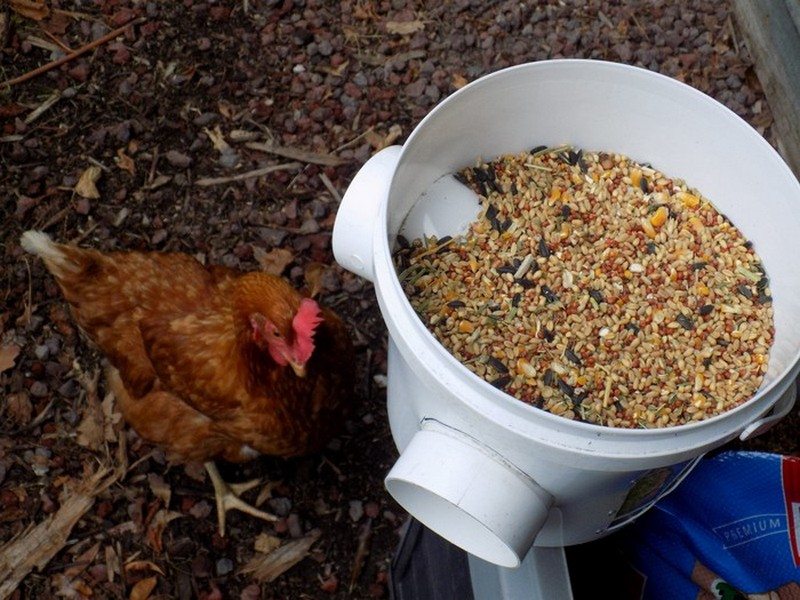 This one prevents the feeds from getting contaminated as well as from spilling. Animals won't be able to knock it over plus it's easy to refill!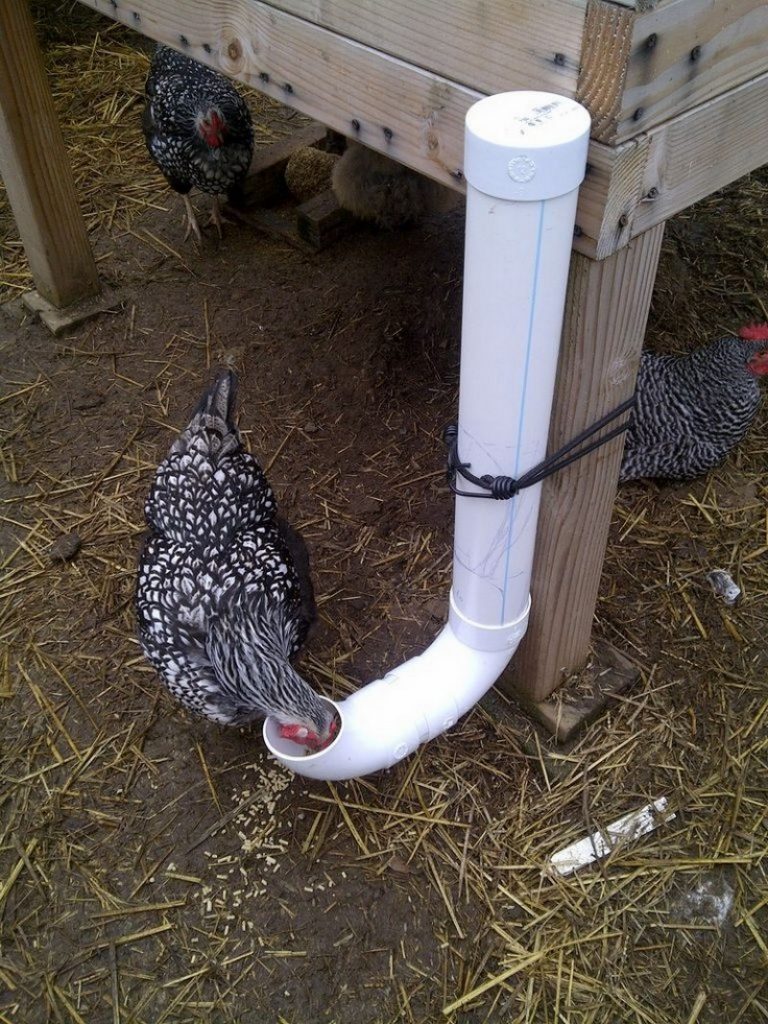 As its title implies, this is a good poultry feeder modification if there are other pets or animals in your yard. The holes are big enough for your chickens but too small for bigger animals.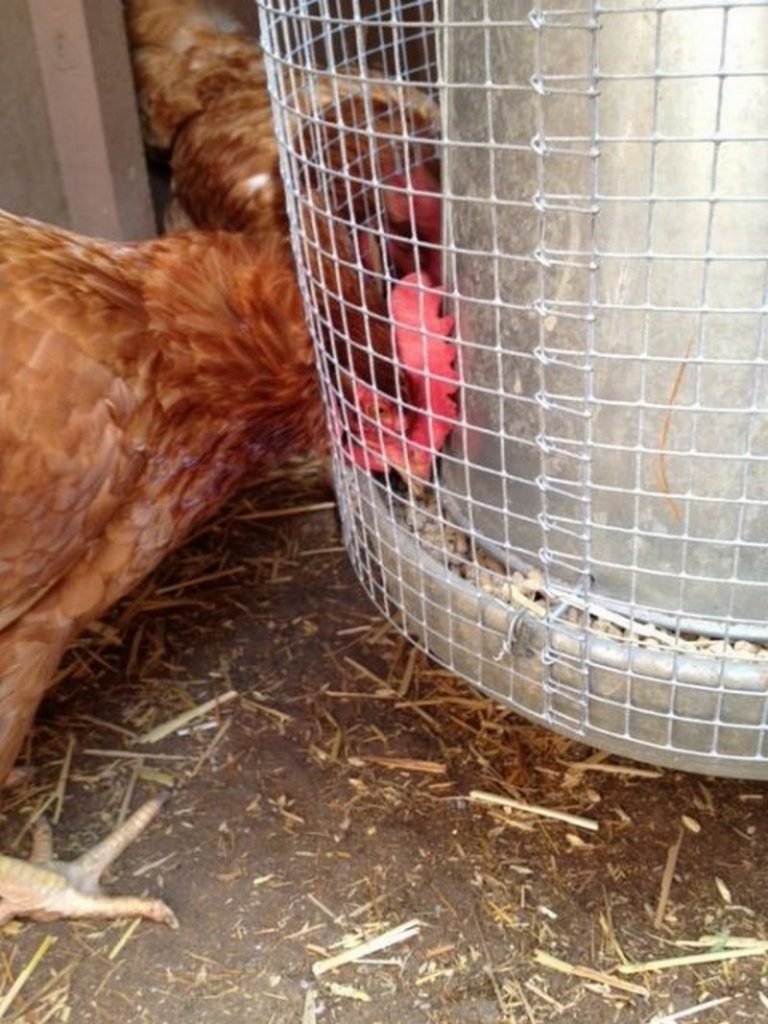 DIY No-Waste Feeder
Here's a 'lazy chicken farmer' solution – let your chooks eat straight from the chicken feed storage!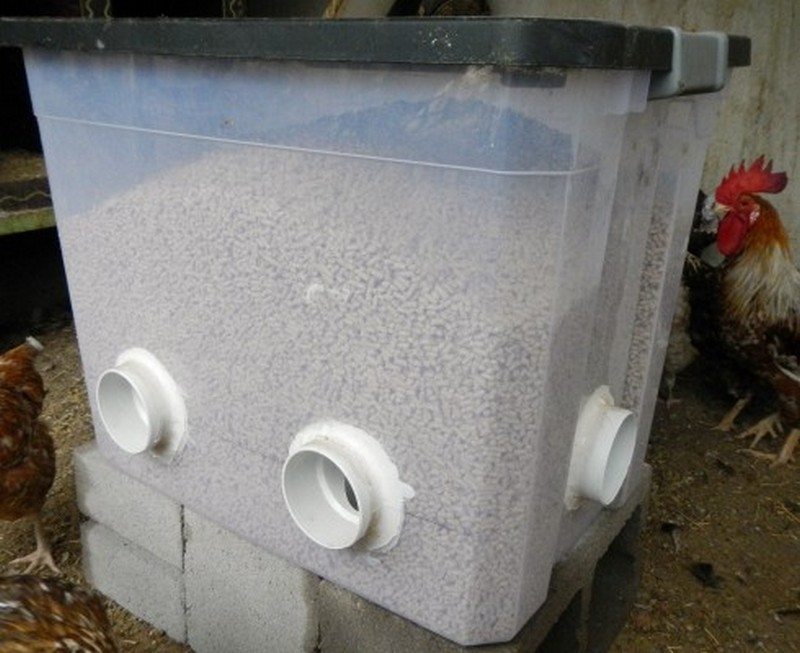 You might also like viewing these chicken coops…