Project Year:  2015
Area:  100.0 m2
Photographers:  Pablo Casals Aguirre
Case el Vigilante was designed as a shelter and as an observation point. It overlooks the South American landscape.
The house features a lounge and kitchen on the first level. Upstairs are two bedrooms and a restroom. The lower level of the house is clad in glass, creating an indoor/outdoor living space. In contrast, the second level is clad in timber panels, providing the house more privacy.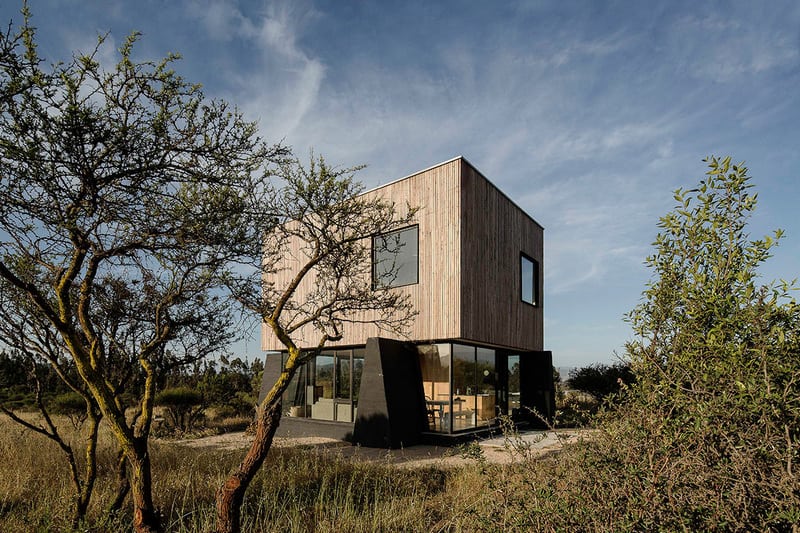 Natural sunlight filters in through a single skylight at the rooftop. Downstairs, there is ample light, thanks to all-glass walls. A door leads to the outdoors, a semi-arid landscape with stunning views around.
At night, the home transforms into an intimate observation point. Like a beacon of light in a deserted land, it is a welcome retreat for the tired and weary.
Notes from the Architect:
The landscape's horizon behaves as the limit between two spaces. Vertical lines expressed in solid geometric concrete structures are presented in a simple manner, indicating a timid balance between the full and the empty.

Balance between the public and the private is the concept that guides the whole project's program. Located in the north-central area of Chile, the project serves the purpose of being a shelter and place for observation of nature's beauty. A two bedrooms, one restroom and lounge and kitchen space first floor, where its formal and spatial duality sets the stage for the physical expression of the chosen building materials and where reinforced concrete pillars and walls, connected via crystals are the ones in charge of finally delimiting this single ample contemplation space.

Both bodies are vertically connected by the stairway, over which, and parallel to it, a skylight can be found; the last natural light entrance of the space.

In contrast, an opaque single volume second floor, lined with 2×1 wood only connected to the outside by a window on each room, windows which become the evidence of the existence of their corresponding spaces on this floor.
Click on any image to start lightbox display. Use your Esc key to close the lightbox. You can also view the images as a slideshow if you prefer 

Exterior Views:
Interior Views:
Drawing Views:
Interested in seeing more home like this? Then check out 510 Cabin…