Year Built:     2004
Built Area:    150m2 including sauna area  (1,620 sq. ft.)
Photography:  Lindman Photography
A 500 year old oak, pines, weathered rocks and a waterfront outlook set the scene for this home.  Situated on an island in the archipelago of Stockholm lies The Island House – a simple, lightweight, low maintenance design by Widjedal Racki Bergerhoff Architects.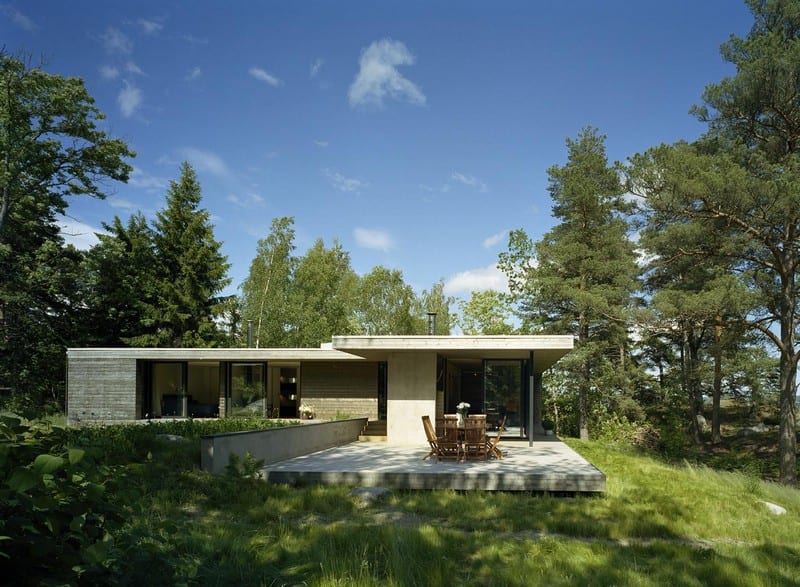 The archipelago contains some 30,000 islands and inlets, all within 50 kilometres of the city but most are accessible only by water. Many are also inaccessible during winter. Although around 50,000 vacation homes dot the islands and mainland inlets, the sheer volume of available locations ensures a degree of privacy and the ability to commune with the natural environment.
Built for a young family with children, it was designed to take full advantage of the scenic ocean view without becoming a dominating feature on the coastline.
Other important considerations were to create a house for leisure with a feeling of comfort and relaxation; a house to socialize in; a house to feel spoiled by; a house that was low maintenance.
"Facing the ocean is a large area for socializing. A floor, a roof and a freely standing core for utilities make up this part of the building. It has an indoor part and an outdoor part, separated only by a sliding glass wall. The sleeping rooms, storage and bathroom are gathered in a more closed structure behind the core. They face a secluded courtyard framed by rock formations and the old oak tree."
Click on any image to start lightbox display.  Use your Esc key to close the lightbox.  You can also view the images as a slideshow if you prefer  

If you like this, you'll also enjoy A Summer Home…