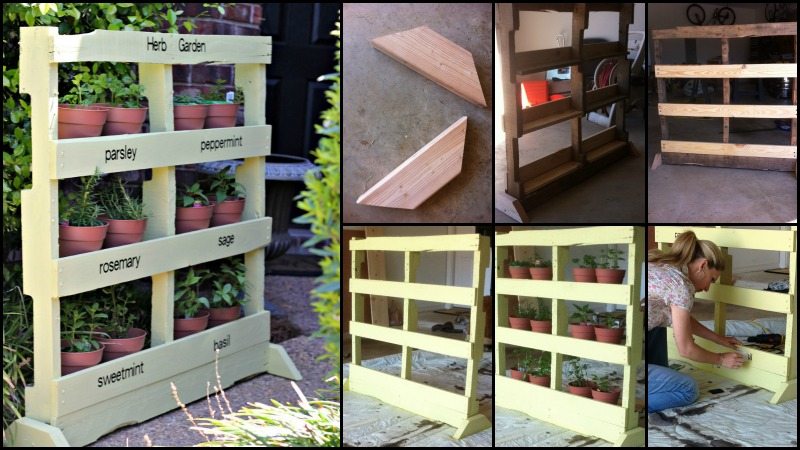 We love our gardens. There is always a sense of contentment and tranquility that comes from observing either a single flower or the patchworks of color and texture in a well-tended garden. The same feeling comes from seeing fresh herbs spilling green and sweet-smelling out of a container. We simply can't get enough of it.
If you're short on garden space but love the idea of fresh herbs, this simple pallet project could be the answer.
Our Pick
All you have to do is revamp the pallets by replacing bad boards with new ones and attach two wooden legs on the sides below to make them stand. Paint the pallet, label, or design it to your liking and you're done!
While you may think we're presenting the idea to look easy, we agree that working with pallets is almost always a challenge. But if you have a pallet breaker this project will get a lot easier! (Learn more about DIY pallet breakers here.)
Planning on using pallets to make your space-saving herb garden? Don't forget to choose the right kind of pallet. Though the wood here doesn't come in contact with the plants and soil, chemicals present in some pallets can still contaminate your herbs!
Think this is the right kind of herb garden for you? Then learn how to do it now! 🙂
Materials:
Used Pallets (in good condition)
1×4 Boards (from previous projects, in case of replacements)
Long Screws
Wood Glue
Paint of your choice
Vinyl or Stencil for labelling the herbs
Tools:
Kreg Jig
Drill
Clamps
Level
Paint Brush
Click on any image to start the lightbox display. Use your Esc key to close the lightbox. You can also view the images as a slideshow if you prefer 😎
Thanks to Pink When for this great project! You can get step-by-step instructions here…
If you liked this project, you will also like viewing these planters…