DIY Patio Table with Built-in Beer/Wine Coolers is a great addition t your outdoor space. Whether you're entertaining a crowd or just having a last-minute get-together with close friends, the right supplies and tools can make ensure that everybody has a good time.
People love to drink, eat, and party together. Why shouldn't we? The laughter and camaraderie flow freely and the stories are always entertaining. Who would want to be at a party and have to search out the drink cooler?
Who would like to have to get up in the middle of a fun meal with friends and family just to get cold drinks? Well, here are really clever coolers for those of you who love to entertain!
The beer drinkers out there will see the immediate benefits of these tables with coolers. And the entertainers will see how useful this idea would be for keeping salads, seafood and dessert cool on a hot summer day.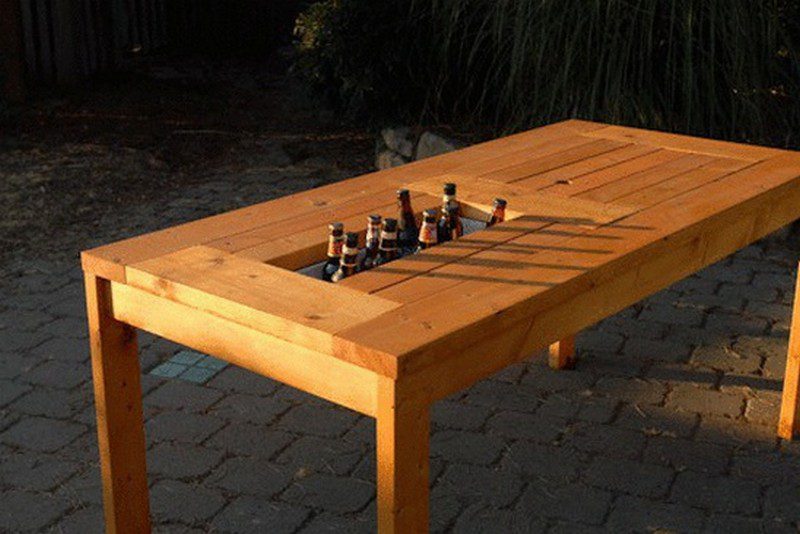 You'll need these materials:
Wood (We used Spruce; see cut list)
Wood Glue
Wood Filler
Wood Screws (1-1/4″)
Wood Screws (2-1/2″)
Sandpaper (110 grit)
2 Plastic Planter Boxes (denoted PB throughout the instructions)
Benite Wood Conditioner (1 quart)
Wood Stain (1 pint, Dalys' 45 cherry)
SeaFin Teak Oil (1 gallon)
3M Final Stripping Pads
110 grit Sand Paper
Rags/ Old T-shirts
Disposable Cup (red solo cup)
And these tools:
Electric Sander
Kreg Jig
Square
Clamps
Sponge Brushes
Electric Screwdriver
1/8" Counter Bore Drill Bit
1-1/2″ Hole Saw Bit
T-Square (could also use a ruler or measuring tape)
Pencil
Cutting List:
2 – 6X2 @ 5′ 9-1/4″ (top longboard)
3 – 8X2 @ 1′ 9″ (top side and middle board)
12 – 2X4 @ 1′ 11-3/4″ (top center board)
4 – 2X4 @ 2′ 5-1/4″ (legs)
2 – 1X4 @ 5′ 2-1/4″ (outer long skirt)
2 – 1X4 @ 5′ 6-1/4″ (inside long skirt)
2 – 1X4 @ 2′ 5″ (short skirt)
4 – 1X4 @ 2′ 3-1/2″ (cross beam)
4 – 1X4 @ 2′ 1-1/4″ (box supports)
4 – 1X6 @ 1′ 11-3/4″ (long box side)
4 – 1X6 @ 8-3/4″ (short box side)
10 – 1X2 @ 7-1/4″ (bottom box)
What are the advantages of these tables with built-in coolers?
Compartments for storage

When not used as coolers, these plastic planter boxes will serve as mini compartment storage to store small items such as bottle openers, shot glasses and other small item party accessories.

Keeps food cold

Patio tables with built-in coolers are just awesome. So, if you're planning to have parties outdoors, these patio tables with built-in coolers can help you keep your food cold(salads and desserts).
You'll be able to eat in peace while not worrying if your ice cream has already been melted.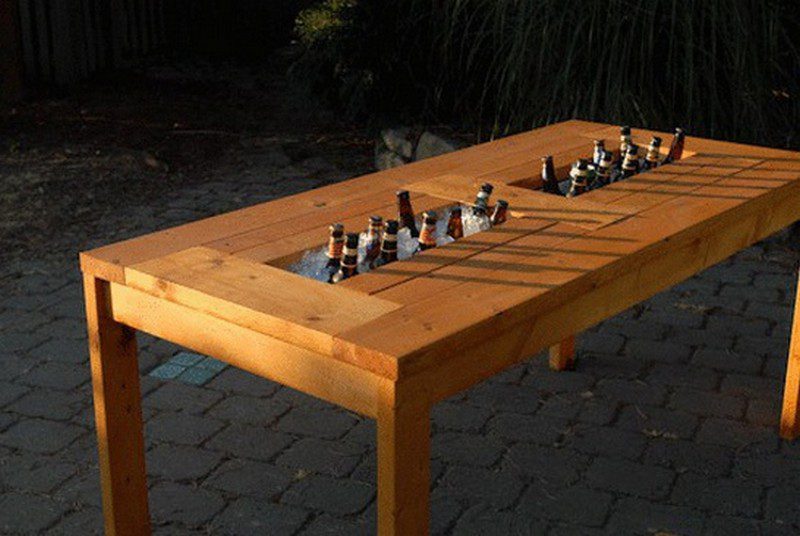 Easily cleaned

Since this table with built-in coolers is compact, this will also mean that it is easy to clean. The space between the surface of the table and the cooler is small, so the surface can be wiped clean. This is also an advantage for cleaning.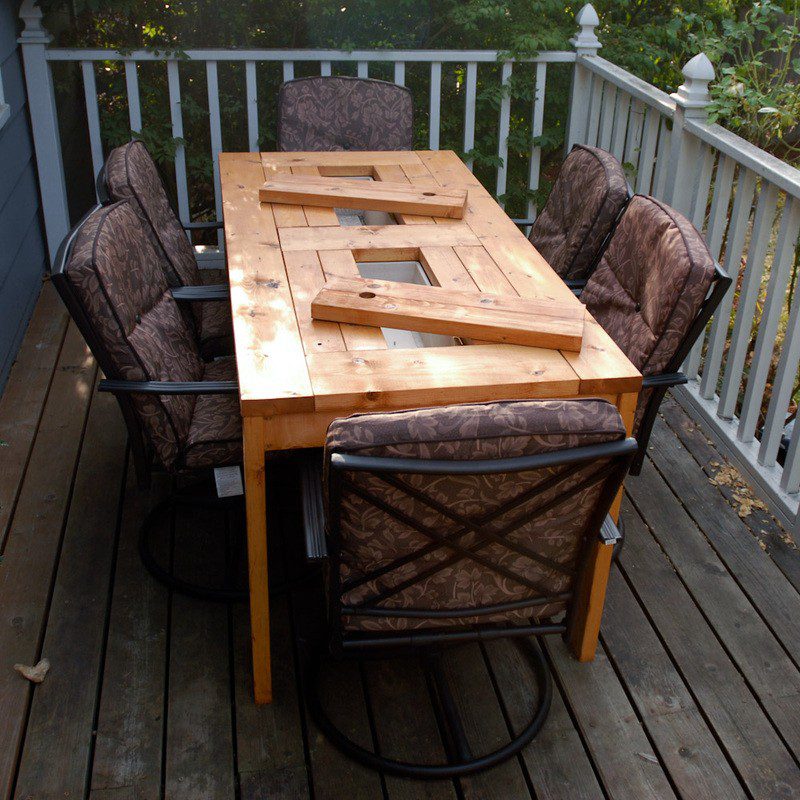 Suitable for parties

When you and your family love to party outdoors. Then this table best suits you. This will save you time going in and out of your kitchen to get your cold drinks is a nuisance.
Why settle for a cold beverage when you can have your favourite drink right within your reach? Now, you don't have to settle for a cold beverage on the table.

You can just take your drink with you when you sit anywhere. The table can be placed anywhere, so you'll be able to host your party anywhere.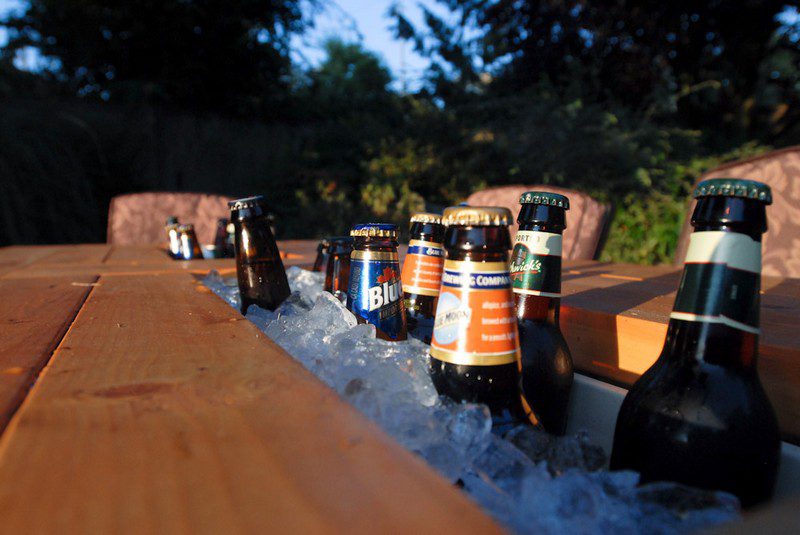 With the right tools, this could be a quick weekend project. We can't wait to have this on our patio. How about you?
Click on any image to start the lightbox display. Use your Esc key to close the lightbox. You can also view the images as a slideshow if you prefer  😎
Thanks to Domesticated Engineer Woodworking for this great project. You can

get step by step instructions here

…
If you liked this, you will also like viewing these furniture ideas…