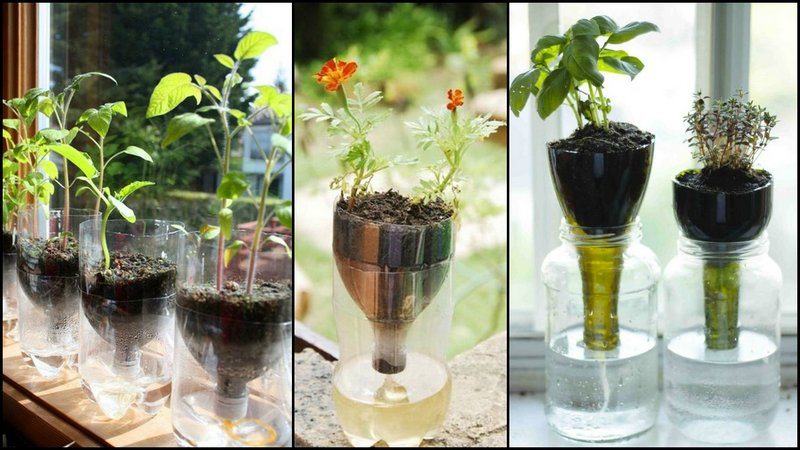 This simple idea is a great way to start seedlings without spending a cent. The pots are made from empty PET bottles that you'd usually put into the recycling bin. Instead of recycling, here's a great way to upcycle those bottles!
If you're new to growing your own produce, these seed starter pots help a lot. You can easily see when you need to replenish the water source, and because of this, you're sure that your plants are watered with the right amount at the right time. It's also much better to water from the bottom rather than the top since fungus and mildew can easily kill or weaken your seedlings if the moisture stays around too long.
Our Pick
Don't have plastic bottles to recycle? You can also use glass ones like wine or Gatorade bottles, or mason jars and anything that will fit those jars which are shaped like a funnel.
What we like even more about this DIY seed starter pot is that it would fit most window sills at home, especially in the kitchen. If you are in the mood to make beautiful, designed bottle planters it can also serve as your green indoor decoration.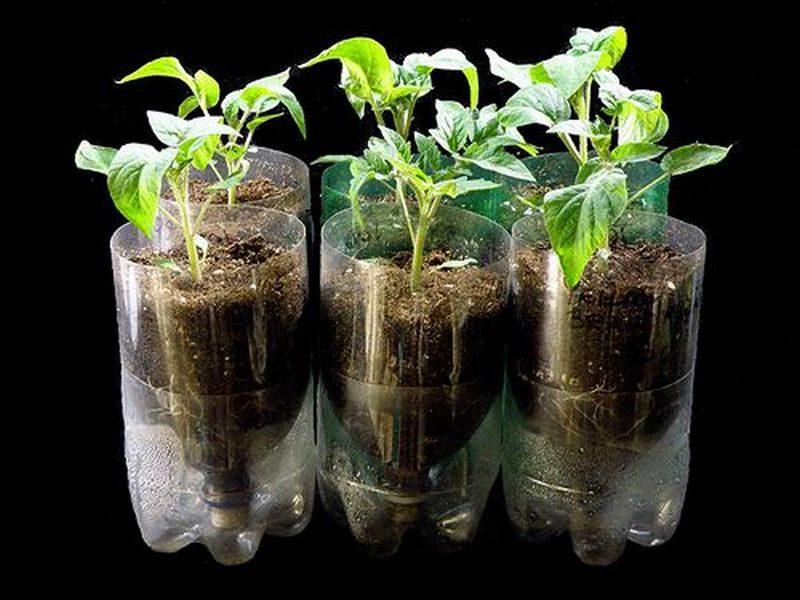 What are the materials needed to make seed starter pots?
There are a few things you need to make your own seed starter pots, such as 2-liter bottles, seeds, potting soil, thick string or yarn (cotton or poly seem to work well), a screwdriver, hammer, and a blade or scissors for cutting the bottles.
Materials:
2-litre Bottles
Potting Soil
Seeds
Cotton String
Block of Wood
Tools:
Awl/Phillips Screwdriver
Hammer
Blade/Cutter
How to make seed starter pots?
Gather the materials.
Divide the bottle by cutting using the cutter blade.
To create a hole, the bottle cap needs to be punched in the center with a screwdriver and hammer.
Cut a 1-1.5-foot length of yarn, fold it twice, and make a loop at one end.
Thread the yarn through the hole in the cap, and make sure the knot is inside the cap. The yarn will serve as the wick. Water will be soaked up from underneath the basin and into the soil using the wick. Soil moisture will be evenly regulated since only what the plant needs will be distributed.
Return the cap back on the top of the bottle, then place the bottle cap inside the base.
Add the soil and the seed.
On the first day, we will have to add water to the soil, to ensure even distribution of water. After that, we can just add water to the base whenever the water is all used by the plants. The water is used by the plants with the help of the yarn.
Below are incredible seed starter pot samples.
Click on any image to start the lightbox display. Use your Esc key to close the lightbox. You can also view the images as a slideshow if you prefer 😎
Thanks to Seattle Sundries for this great project. You can get step-by-step instructions here…
If you liked this project, you will also like viewing these easy DIY projects…