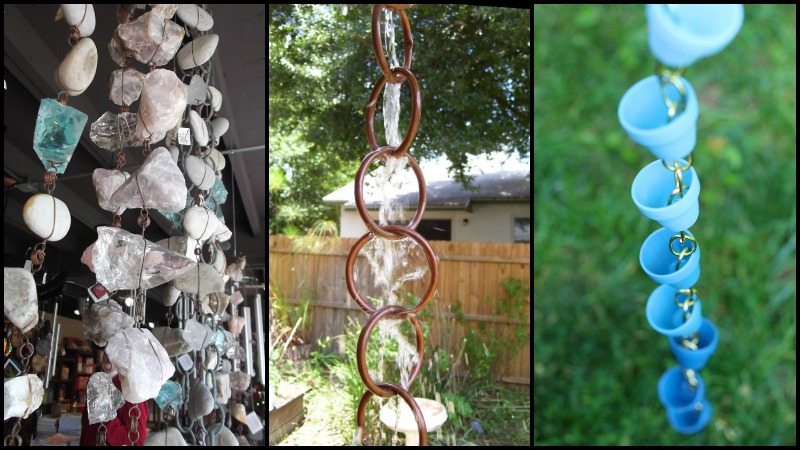 Need to have your downspout replaced? Instead of buying boring pipes, why not make rain chains using recycled materials?
Rain chains are a wonderful alternative to downspouts. Rain chains don't only manage rainwater but also decorate your home's exterior. They are widely used in Japan, where houses wear them like dangling jewelry!
There are several materials for you to choose from — new or recycled.
Take a look at our examples below and see what will suit your home the most!
Click on any image to start the lightbox display. Use your Esc key to close the lightbox. You can also view the images as a slideshow if you prefer 

DIY Ombre Rain Chain
Use mini terra cotta pots and color them with your excess paint for a more good-looking rain chain.
Copper
These copper rings came from a roll of copper refrigeration tubing. You can be more creative and make your own link patterns!
Stones
Do you know where you could get some beautiful stones in your area? Simply tie them with wires and you'll have this beach-themed rain chain!
Buckets
Here's a rustic rain chain idea. Now that's one way to collect more water for household use.
Silverware
Spoons and other silverware also make good rain chains. Just imagine how water will look flowing through the spoons!
Wine Bottles
Now, who doesn't have empty wine bottles stored in their houses? Simply cut your glass bottles in half and use the top part for making your rain chain. The other half can be used as a planter.
Metal /Brass
Do you have any metal /brass items which you think can be a wonderful rain chain? You can get some form of an old chandelier, for example.
Tart Tin
You can also make a rain chain using tart tins if you have a baker in the family. Do you know someone who will love this idea?
These are just some of the beautiful ideas for making a rain chain for your house. If you have more creative ideas to add to the list, you can share them with us through the comments section below. 🙂
If you liked these ideas, you might also like these other recycled, upcycled, and repurposed ideas…